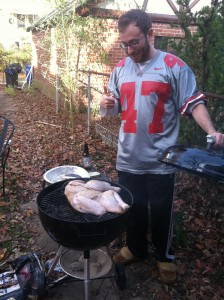 Welcome to the first installment of "In Praise Of." Here I will discuss some of my odder food fascinations/obsessions. Today I will tell you all about my love of grilled turkey.
One of the things I most looked forward to upon my arrival in the cityburbs was buying a proper charcoal grill. I will assert this as fact and not opinion: meats, fish, vegetables all taste better when cooked over a charcoal fire. I've had steaks on a gas grill and steaks on a charcoal grill, and I can tell you that there is no comparison. Charcoal simply tastes better. You can get add-ons for a gas grill, but the cooked-in charcoal taste is the pinnacle of amateur outdoor cooking.
When we finally bought the grill, I began tirelessly speaking of my dream to grill a turkey. I don't know how this dream got into my head, but I knew I had to grill a damn turkey. I annoyed my roommates, friends, anyone who would listen. It had to be done. I would not rest until I achieved my goal.
The biggest question was how to do it? I had heard of a number of different preparations. After careful research, I was ready.  Here's how I did it:
Get the turkey butterflied, which entails cutting the backbone off the turkey and cracking the breastbone. This allows you to lay the turkey flat on the grill. If you have the knives you can do this yourself, but any self-respecting butcher can do it for you.
Marinate the turkey following your preferred method (I'm not here to weigh the merits of various turkey marinades).
Arrange the coals to allow for indirect grilling. Put the coals on one side to build a 2-zone cooking system. This allows you to cook the turkey off the heat instead of directly over the fire.
Place a drip pan below the turkey, to collect the juices for basting.
When the coals are ready place the turkey on the non-coal side.
Cover the turkey with tinfoil and cover the grill.
Rotate every half hour (note this can be a two person job, a butterflied turkey can be pretty unwieldy).
The turkey I got was pretty small (8 pounds), so cooking took just under 90 minutes. The result was a smoky, charcoal-flavored, juicy turkey. I can't speak highly enough of this preparation and will probably do it every time I cook a turkey from now on.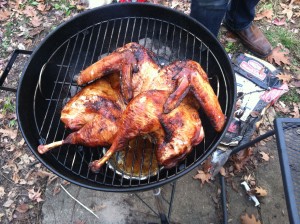 Next step: learn how to brine a turkey.