[Editor's Note: today we welcome our first guest blogger to Eat the District. This one is very close to a member of our team. We welcome one of the mothers of Eat the District, Rebecca Lubens, to our larger family. If you have a topic you wish to write about please contact us, and we'll get you up here.]
By Rebecca Lubens
As a mother who's visited my son in DC many times, here's how I imagine he plans for that delicious meal (or two) we'll be enjoying together, plus some recommendations for great restaurant picks when Eating the District with Parents.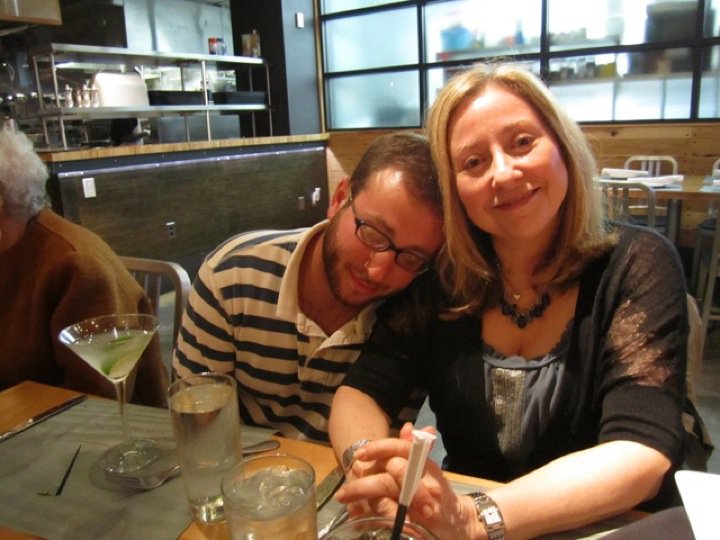 Your parents may think they're visiting DC to spend some quality time with you, but you know better. You love them and everything – and you don't really mind visiting the Lincoln for the umpteenth time – but you can't help dwelling on one of the best aspects of their impending visit: a really great meal – on their dime.
Planning for this meal (or two if you can swing it) takes some finesse. Are you picking a place they will like too? Is it near a Metro stop or a short cab ride from their hotel? How far in advance do you need reservations? Have you read up on the reviews so you can talk up your choice convincingly? Is there a dress code? (More about that later.)
And then of course there's that key consideration in your world: How many (and which) of your friends can you invite along without busting the bank and totally embarrassing yourself? It's a given that your parents enjoy meeting your friends in their well-behaved moments. But how many can they tolerate watching as they stuff themselves with some delicious edibles?
A hint: Try some simple multiplication. Figure out the average cost of a meal at your target restaurant and multiply by roommates, soccer team pals, and so on. If the total number leaves even you gasping – pare down!
On to the choice of a restaurant. Here are several that I recommend, each very different from the others. The food at all three is out of the ordinary, and of course, over budget for most of you Eat Cheap types.
Our go-to spot for a special brunch, lunch, or dinner is without a doubt Founding Farmers. FF is a restaurant with a (believe it or not) dining philosophy, specializing in "farm-to-table" eating, sustainability, and celebrating the American family farmer. The restaurant itself is LEED certified, eco-friendly, and stylishly designed. Lest you be put off by all this philosophizing, never fear – the food itself is delightful any time of day or night. Creative combinations of top-quality ingredients make for some flavorsome eating. Brunch for 10 of your closest friends? See you there!
Kushi is a restaurant from another planet altogether, yet also offering amazingly delicious and attractively presented food. Kushi is billed as an Izakaya and Sushi restaurant, izakaya being a restaurant in the Japanese style specializing in sake, drinks, and small plate meals. The bar bustling with trendy patrons testifies to the popularity of the sakes, and the crowded tables to the meticulous and tasty food. Order lots of plates to share and keep those tastes coming as fast as you and your pals can devour them.
What can I say but 1789? 1789 = elegance. 1789 = just you, no friends. Be kind to the parental wallet. Think white tablecloths, refined surroundings, topnotch service, and also amazingly delicious and attractively presented food. Just don't forget to dress the part yourself and warn your parents to be prepared. Save your dad the embarrassment of squeezing into the "I forgot my jacket" jacket, parked for just these "oops" occasions in the coat check closet. Suitably attired, you can relax and enjoy a legendarily superior meal, bursting seams notwithstanding. Just tell your friends about it – after.