Welcome to A Cut Above. This column is dedicated to places outside of our normal milieu. These restaurants are for dates, special occasions, or when you just want to feel like a boss. We love to eat, but can't always afford the indulgence. We don't necessarily think these restaurants are better than our bargain bites, but they're a step above where the wallet is concerned.
Mintwood Place has been written about extensively in the DC blogosphere. Some of the feedback has been good and some has been more tepid. Some argue that this upscale eatery won't change the landscape of Adams Morgan.
We're not here to retread a lot of that ground (I disagree with Young and Hungry on many points). I think Mintwood Place is good for Adams Morgan, usually thought of as a mecca of bars and home for rowdy members of Eat the District's key demographic.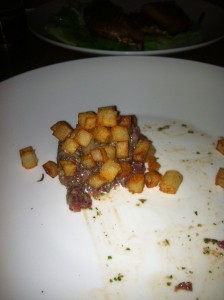 I ate at Mintwood Place the first the day they accepted reservations, and about a month after eating at the similarly themed (at least decor-wise) District Kitchen. Of the two Mintwood Place comes out on top in a close race (District Kitchen is also amazing).
The food was fantastic. Everything tasted fresh. Everything was fresh. All of the dishes felt like something you'd had (and loved) but with a twist. The goat cheese & beet mountain pie was a singular experience. The crunch of the bread added another dimension to the traditional goat cheese and beet salad. The steak tartare and spuds reminded me of an upscale version of something I might eat at venerable Tenleytown haunt, Steak & Eggs. The tiny home fries again added that crunch that upped the ante on the standard steak tartare.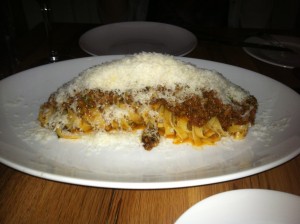 A lot has been written, but not enough can be said about the Tagliatelle bolognese. It was light, it was decadent, it was filling to the extreme. I can say that if you go for your first trip, it's a no-brainer.
The dessert was almost unfair. Key lime pie is one of my all-time favorites, and Mintwood Place didn't disappoint. The pie was tangy (a must-have for a successful key lime pie) with just a hint of that sweetness.  A random added perk, the whipped cream was easy to scrape off (don't ask, I don't like whipped cream)
The servers at Mintwood deserve a quick special shout out for their attentiveness. (our table had a wobble and a staff member came by and kindly placed a wedge without us asking).
I left Mintwood Place satisfied, full, and just a little poorer. If Mintwood Place shows what Adams Morgan could be, I say bring it on.
Update: I went for brunch this morning and to be honest I had high hopes. And to be honest they were met in every way. The coffee was fantastic (strong, full-flavored, after two cups my hands were shaking). The grapefruit juice was lip smackingly sour (with just a little pulp).
The food was also fantastic. I don't mean to sound like a sycophant of Cedric Maupillier's, but I cannot and will not stop speaking highly of Mintwood Place. I had two chocolate chip pancakes and a side of bacon. Pancakes are not my normal breakfast choice (big fan of french toast), but these hit the spot. They weren't overloaded with chocolate chips, which can often make pancakes overly gooey even before applying syrup.
The bacon was just under crispy, which again is perfect for my taste. I dont like burnt bacon, I prefer something with a little chewiness to it. The cut could be thicker (see I did offer criticism), but I wasn't disappointed.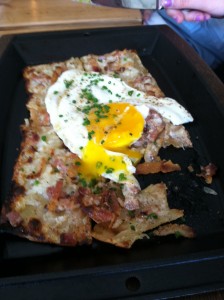 Our server was predictably friendly and helpful. He didn't even insult my brunch companion's butchering of the pronunciation of flammekueche (which was also quite tasty).
We had a quiet brunch, getting in just after the doors opened at 10:30. Get in on Mintwood's brunch now while it's still relatively easy to get a table. I promise that won't last long. This brunch is worthy of entering the competition with local neighborhood stalwarts The Diner and Open City.