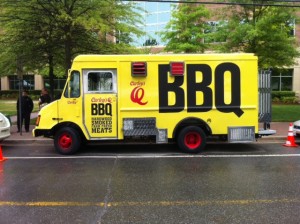 The general consensus is that in order to get great BBQ, one must head south.  Unfortunately, the great strongholds of American BBQ: Texas, Memphis, Kansas City, are something of a road trip away.  Fortunately for us, the conventional wisdom does not necessarily apply here in the district.  See, I have experienced some truly delicious Q by looking North.  North to Montgomery County that is.
Curley's Q is a relatively new BBQ truck based outside of DC, in Montgomery County.  Started by the truck's namesake David 'Curley' Cornblatt less than two months ago, this bright yellow number serves up copious amounts of hardwood smoked meat.  When you arrive at Curley's Q, you will realize that you have a whole lot of options.  If you choose a particular meat, you can get the 'solo' size which comes with meat, a kaiser roll, their vinegar based slaw, and a pickled Jalapeno.  If that isn't enough food for you, you can order the plate size which comes with all of that plus a bag of chips and the side of the day.  Curley offers combo plates as well so that you are not limited to a single meat.  For the purists and the leftover crowd, one can also order meat by the pound.
Curley was generous enough to let me try his 'Curley's Plate,' a monster combo platter that had ribs, pulled pork, brisket, and chicken along with all the fixin's.  After sampling, I found that each of Curley's protein offerings followed some guidelines that make this BBQ unique.  All of Curley's meats are smoked dry, as in not with a wet rub.  They are seasoned but only moderately so.  There are those who would say that this results in a lack of or mildness of flavor.  To these people I respond that these entrees all have strong, meaty flavor.  If you need to drown a place's BBQ to enjoy it, they aren't doing it right.
Here is my rundown of the meats:
Brisket:  Curley's brisket is not perfect.  Though it is tender as anything and has a strong beefy flavor, it tends a bit toward the fatty side, a fact that Curley knows well and is working to fix.  He mentioned to me that he is working with a gigantic new smoker and that BBQ is not an exact science.  So I expect that within a matter of weeks, that brisket will hit its stride.
Pulled Pork:  This pork is incredibly juicy.  Remember that kaiser roll that comes with your plate?  Well this is the reason why.  Let your roll soak up that juicy meat, throw on some of your vinegar slaw, and put together one mean pulled pork sandwich.
Ribs:  These aren't some measly downsized version of ribs that you might expect to get off of a food truck.  These are dinosaur bones.  These are big, thick and the meat is nearly falling off the bone.  This is where the lack of overwhelming seasoning shines.  These bad boys have that strong smoked pork taste that every BBQ lover is hunting for.
Chicken:  Okay, so last week I mentioned that you will rarely hear me say that chicken is my favorite item on a menu.  I am already eating my words.  Curley's chicken was the best   item on their menu.  Like the rest of Curley's meats, this chicken was super tender.  It wasn't stringy or bland and every bite was an experience. With all this in mind, if you are picking a single meat at Curley's, go with the chicken.  You will absolutely not regret it.
As good as the food at Curley's is, it isn't just meat.  Your trip to Curley's Q is also going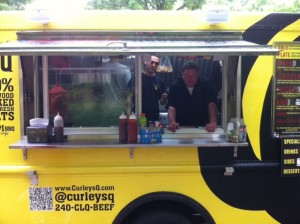 to be an experience.  This is due mostly to the big personality of Curley himself.  A perennial jokester and BBQ aficionado, Curley is a self proclaimed graduate of the CIMH or 'The Culinary Institute of My House.' His truck is adorned with "voted best BBQ by my ex-wife," and he will likely be making some off-color comment about parole officers and cracking wise at his employees at work in his truck.  Curley says that his passions are helping people and cooking BBQ, and he is doing just that, brightening the days of the people of Montgomery County by slinging some crazy Q.
Curley's pricing wont hit your pockets too much, with his large solo plates running you $8 or $9.  His combo plates will cost you a bit more, but will be enough for two or will provide you with some serious leftovers.  Curley, sells all over the county, but usually spends two days a week selling in Bethesda, which is a great treat for all of you red line folks.  Head north to the suburbs and treat yourself.
You can follow Curley @curleysq on twitter and check their menu out at www.Curleysq.com