As Eddard Stark might say, summer is coming (yes, we're Game of Thrones nerds here at Eat the District). That means hanging outside, relaxing with friends, and sipping on a cold beverage. For me, as many of my friends know, that means the gin bucket. It is an anytime drink, but it's best suited for the summer, a time when your cares melt away and the days are long. It's really my favorite time of the year, and the gin bucket may be my favorite alcoholic beverage. For years I've been making it and oftentimes people will ask me, "Micah, what do you put in your gin bucket?" and for years I've been giving them the cold shoulder.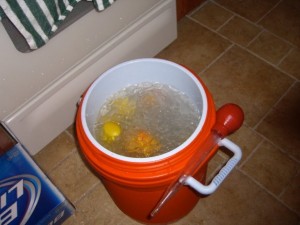 Well today that ends. I've decided that it's better to share the wealth than to keep my recipe secret. To those of you that have never experienced a gin bucket you should take this recipe (or just come to an Eat the District party!) It starts with the bucket. You don't have to have one of those 20 gallon Gatorade orange buckets. It took me a while to find one (Home Depot held the key) but once I did, I was in business.
The recipe itself is very simple, BUT you must be precise and follow it exactly to achieve perfection. Here are the key ingredients:
1 handle of Gordon's gin (Gordon's is important, other gins won't do)
2 2L of Fresca (not Sprite, not Sierra Mist, not Mountain Dew, etc.)
2 Limes
1 Lemon
1/2 Grapefruit
Ice
Unused turkey basters
You can double this recipe if you have a large party on your hands. To create, pour the gin and Fresca into the bucket over ice. Cut the fruit in half and squeeze the juice into the mix. Throw the rinds in after. Stir the bucket.
Now the next step is the most important. Do not drink this with cups. You must use the turkey baster. If I'm at a party with you and you're drinking gin bucket from a cup, I will judge you and I will be vocal with my displeasure. Fill the baster and waterfall the contents into your mouth. Yes this may seem exceedingly college, but you're our audience. Don't ever be above the bucket.
The bucket is a drink for friends. A rule to always remember: no one bastes alone, no one. It's a drink for all occasions. A wise man once told me, "When life hands you lemons, make a gin bucket." This summer let life hand you those lemons and enjoy yourself a cool refreshing citrusy good time. And make sure you invite me.