We've spent the first few weeks of Eat the District's life sticking pretty close to that first word: eat. We've focused on the food and only the food, and whatever we did on a weekend night stayed on a weekend night. These past couple of days, though, Eat the District has been getting the urge to let our hair down and show our wild side. Yesterday we brought you the secret of the Gin Bucket, and today we're pretty excited to tell you about our experience last night at Last Exit's first birthday party.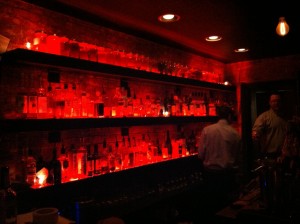 You may never have heard of Last Exit – to be fair, most of us at Eat the District hadn't until recently – but this little spot deserves to be on everyone's radar. Located inside the popular neighborhood bar Tonic in Mt. Pleasant, Last Exit has a real Prohibition era speakeasy vibe, dark with red lighting and a couple of couches in the front and towards the back. The bartenders at Last Exit are committed to mixing surprising, carefully designed "Craft Cocktails" that are well thought-out and expertly executed. Don't expect to show up here and slug back a few Miller Lites and some shots of rail vodka: these are drinks to be sipped slowly, to be talked about, to be enjoyed.
We were lucky enough to score three invitations to Last Exit's one year anniversaryparty.* Eager to show off some highlights of their menu, Last Exit provided three drink coupons per person for three different cocktails off of their menu. Here's what we drank:
Rumdog Millionaire. Oh man. We really can't say enough about this unique, innovative drink. Last Exit's take on spiced rum, the Rumdog Millionaire is comprised of top-shelf Ron Zacapa Centenario Rum, garam masala that they mix in-house, soda water, sugar, and fresh squeezed lime juice. That's right: garam masala, like what you typically find in your chicken tikka masala. Both sweet and spicy with a definite hint of sour from the lime juice, this drink even made a believer out of known dark-rum-hater Micah. One sip of this and it's instantly clear that these guys are serious.
Silk Knot. The Silk Knot was probably our least favorite offering of the night. A mix of Diep 9 Genever Young Grain, Dolin Rouge Vermouth, Aperol, and St. Germain is shaken over ice, poured, and served with a knotted strip of orange peel. This cocktail was definitely tasty, and its healthy amount of alcohol never let you forget you needed to be 21 to drink it. However, its somewhat standard flavors were a bit of a letdown after the Rumdog Millionaire; there was nothing particularly new going on here.
Salome. One of Evan's favorite things in the world is the combination of chocolate and chilis, but even he would have balked before last night if you told him you wanted to add vodka to the mix. But the Salome, a chocolate and chili infused vodka served chilled with an orange twist, was absolutely delicious. With a strong chocolate taste right at the beginning and followed by that wonderful tingle of heat, the Salome might just ruin all other vodka drinks for you.
At $9-13 a drink, you're not going to be spending every weekend here, or even necessarily an entire night. But start your evening here with a drink or two; bring a date, sit at the bar, and ask what the bartenders recommend; or settle down on the couches with a group of close friends and a Rumdog Millionaire. We promise it won't be your average Friday night.
* Full disclosure: it helped that Micah's day job is with a company that advises Tonic, their sister bar, on social media.