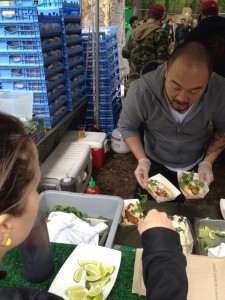 This Saturday I took a journey up north to Columbia, MD. My purpose was attending the second annual Sweetlife festival, a day of music and this year, of food. A big focus of this year's festival was an increased emphasis on good food. The day was supposed to feature food from: Sweetgreen, Serious Eat, Jose Andres Pepe Truck, Fruck Farm, Taim, Bev Eggleston, Smucker Farms, Keany Produce, Momofoku Milk Bar, Pleasant Pops, The Big Cheese, Sweetflow Mobile, Roberta's Pizza, Luke's Lobster, Shake Shack, DC Central Kitchen, Toki Underground, Bake + Wired, Honest Tea, Applegate, Stonyfield, Kind Snacks, Bakery de France, Grody's Pick Jar, Snikiddy Snacks, Sir Kensington Ketchup, Tadah! Foods, Peak Organic Brewery. Phew that was some list.
Additionally, if you shelled out an extra $50 for the VIP you gained access to R.J. Cooper, Rappahannok Oyster Bar, Dolcezza, Spindrift, Quenchbuggy, and Cafe Integral. This fact was not obvious when purchasing a ticket, so discovering that I would not have the chance to sample R.J. Cooper's (whose menu sounded unbelievable) was a major disappointment.
Last year there were a large number of free samples, which made the typical concert going experience ($9.50 for a beer) more appealing to us cheap eaters. This year's festival upped the price on the ticket, but seemed to come with the promise of more awesome food. Some of the biggest names of DC haute cuisine would be in attendance (or at least their food): Jose Andres, Erik Bruner-Yang, and R.J. Cooper all had outposts up at Merriweather Post Pavilion's "Food Forest".
I wanted to write this post saying how great the experience was and how much good food I had, but unfortunately that's not entirely going to be the case. For the most part this event, food-wise, was a major letdown. I'll get to my favorite food of the festival at the end, but I'm going to start with my gripes.
For an extra $25 I was expecting some perks, but this year had far less free swag/food than the inaugural Sweetlife Festival. Stonyfield did come with free yogurt (delicious) but other than a few PB&J and soup samples, we were left out in the cold.
The prices were out of control. A Smoke Shack Burger from Shake Shack ran $9. Serious Eats was charging $10 for their Muffaletta. Big Cheese was charging $10 for a GRILLED CHEESE (and a side). I could buy the materials for 20 grilled cheese sandwiches for $10! To top it all off I never saw a number of the food vendors that were allegedly in attendance.
So fine, you have to pay more for food at a concert, that's I guess a given. After overcoming my initial disappointment, I had to make my decision. It came down to the Pepe truck and Toki Underground. I decided that because I rarely get around to eating at trucks (Steve's speciality) that I would go with Pepe. I was really looking forward to sinking my teeth into the Pollo Frito flauta. After waiting about 15 minutes in line I reached the front and placed my order. I was informed (politely) that the fryer was on the fritz and the flauta wouldn't be ready for 40 minutes. My other choices were a grilled cheese (again $10 for a grilled cheese) flauta or the Butifarra "Burger." I really had my heart set on the Pollo Frito and when faced with having to pay $10 I wasn't going to compromise. To say that I was unhappy about this would be an understatement. Some kind of advanced warning from the staff would have been greatly appreciated.
But before I get too negative, there was a bright spot in all of this mess! With Pepe out I went to my second choice, and it turned out that everything worked out as it should. Toki Underground was fantastic, and really should have been my first choice all along. They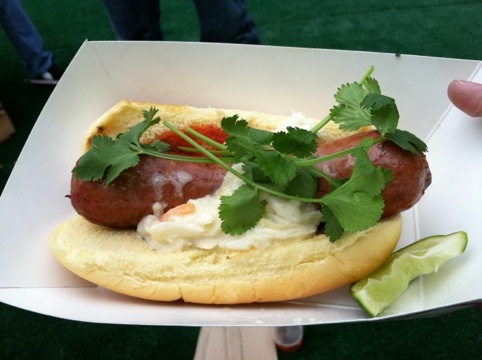 had teamed with 13th Street Meats to offer Pho Dogs (Chicken or Half-Smoke were the options). When I reached the front of the line I asked my order taker (Ana or Anna, can't remember the number of n's) which I should order. She kindly recommended the Half-Smoke and whoa was she right. The hearty and smoky half-smoke was served on a delicious potato roll. With both hoisin and Sriracha accompanying the dog you got that mix of sweet and spicy that you're looking for in a hearty bowl of pho. On top there was a fantastic slaw that really tied everything together. And the best part? It only cost a reasonable $6! The shock of that was almost the best. Among all the over-priced foods on display, here was a filling and delicious half-smoke that didn't break the bank.
So good job Toki Underground, thanks for redeeming this overpriced foodstravaganza.