Most neighborhoods or towns have a go-to deli. It's a place where one can reliably get a sandwich, and the DMV has a lot of thes elocal spots where you can grab a pretty good sub. DC does not have a lot of good Jewish delis, but that's a different story for a different post. What the DC area does have is a lot of good Italian delis. From A. Litteri to the Italian Store, we got your pork cold cut varietals well covered. Enter Market 2 Market, Del Ray's entry into the Italian deli fray (and the most successful "blank 2 blank" since Jungle 2 Jungle).
It's good, let's get that out of the way. They make a mean sandwich at a reasonable price. The 116 with its well balanced attack of Prosciutto, salami, capicola, and ham is a hearty sandwich that brings the flavor. The meats are loaded on and a pretty standard provolone (nothing to top the king of provolones at Taylor Gourmet) work well together. The bread is awesome — soft but hearty — I prefer it to the hard and soft rolls on offer at The Italian Store in Arlington.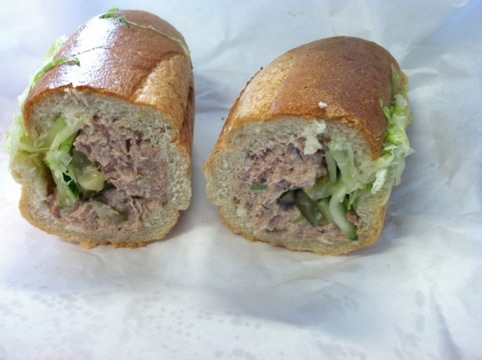 My personal favorite is the Wyatt. I'm a sucker for tuna fish, but I'm also very particular (I'll get to this in a later In Praise Of). Without getting too into my particulars about tuna, theirs is fantastic. It's blended with some dill pickle and cucumber and it's hard to imagine I'll order anything different anytime soon (although their meatballs do look amazing).
Another thing to note about Market 2 Market is their outstanding beer selection. Theyhave over 100 beers and offer the ability to mix and match a 4 or 6-pack. They offer a lot of microbrews and seasonal offerings. I love it because they have my favorite summer beer, Bell's Oberon.
So come to Del Ray (a burgeoning food destination) and grab a sandwich and some beer. You won't be disappointed by what you find tucked away on E. Del Ray Ave.