I love the Greek Yogurt fad. I'm not entirely sure I buy it, but I enjoy Chobani's Blood Orange flavor more than anything. I vaguely understand it has something to do with probiotics, which are good for you and aid in digestion. Sure, whatever. I also love Frozen Yogurt. In fact I would say I like it more than ice cream (gasp!). So the marriage of the two must be the best thing ever right?
You're not wrong. Ben and Jerry's recently unveiled their entry into this new wild world of Greek Frozen Yogurt. To celebrate and help promote they've hit the road with their Scoop Truck Tour. On the East Coast and West Coast they're hitting cities for the summer. DC was luckily the first stop on the East Coast tour. Every day the truck drives around giving out free samples of their tasty treats. How do you get them to come to you?. Simply tweet at them @BenJerrysTruck with the hashtag #OMGFreeBenJerrys.
Easy enough, right? Well last week my office hosted an open house for the community. I thought to myself, "What would be better than some Ben & Jerry's at this party?" I tweeted at them for a few days leading up to the event to no avail. This Wednesday I received a direct message apologizing for missing the party and asking if there was a way for B&J's to make it up to me. Done and done. So yesterday Terrance and Michael from Ben and Jerry's stopped by my office with their magical truck.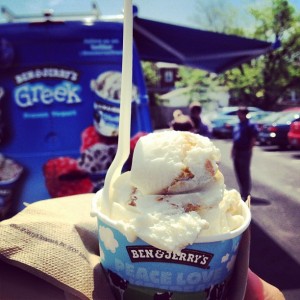 These two exceedingly nice guys accommodated all comers at our 75 person office. The flavors on offer were Raspberry Fudge Chunk, Peanut Butter Banana, and Blueberry Vanilla Graham (Strawberry Shortcake was missing on our day). I went with Raspberry Fudge Chunk (I previously had bought Peanut Butter Banana Chunk), and whoa It's fantastic. I don't know if it has any real beneficial properties, but it is mighty tasty. The raspberry comes through nice and strong and the chocolate chunks really add an extra level of rich sweetness. They were willing to let people try them all (though not mixed together).
Now the truck is only in town for another week, so you have to act fast. If you see them make a beeline and make sure to follow them on Twitter. And if you get a chance to have some, tell them Eat the District sent you, you just might get some for free…