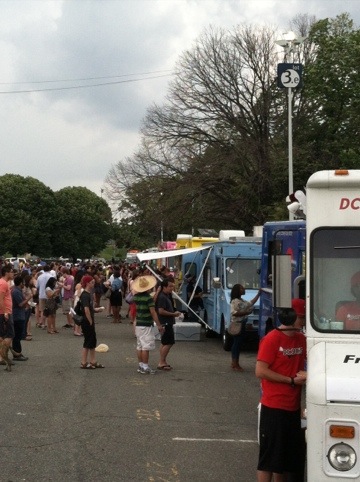 Cinco de Mayo offered a maelstrom of events this year. From celebrating the holiday to the Kentucky Derby to the Mayweather/Cotto fight and a lot of good playoff sports, Eat the District had to choose how we wanted to spend our Saturday. Curbside Cookoff's Trucko de Mayo featuring 45 food trucks down at RFk was a no brainer. Here was a chance to sample a lot of different trucks and take in the fun vibe on a beautiful Saturday. It wasn't overly crowded when Even and Micah went (around lunch time) and the lines moved quickly.
One complaint to be had about the event was that trucks for the most part didn't really offer specials for the day. It would have been ideal if each truck had offered a sampling menu, which would have allowed visitors to maximize the number of trucks. With that minor gripe out of the way, the event was a blast. There really was a huge variety of trucks from Virginia and DC. The three of us were all there and we took different paths. Below is an accounting of our journeys:
Micah: I was all over the map when it came to my selections. I'll present them in order eaten so you can get an idea of my thoughts process (not that I really had one, it was more of an ooooh that looks good).
Chupacabra: Went with the Boquerro del fuego, a lamb taco that lived up to it's fiery name. Big fan the salsa and the flavorful lamb.
Pleasant Pops: After the taco I needed a cooling palette cleanser. The Orange Creme served up by the Pleasant Pops guys was just what I needed. The price may seem a little steep at $2.75, but it was definitely worth it. My mouth appreciated it as well.
Tapas Truck: The real letdown of the day It was unfortunate because the tapas concept was exactly what I wanted out of every truck, but they really failed to deliver. Our chicken was bland (and not that warm) and the chorizo could've done with some spice as well. The shrimp pil-pil was my favorite, but when faced with the other options, not a difficult task.
Stix: My by far favorite savory treat of the day. Went with the Bacon wrapped filet mignon with a chunk bleu cheese dipping sauce. It was phenomenal. The ladies of Stix were also very friendly and good spirited, even when I made the Stix faux pas of asking for silverware. The dressing completed the well seasoned beef and really stole the show for me.
Sinplicity: As I stated on Twitter day of (reminder, are you following us on Twitter?) I love blood orange sorbet. Sinplicity brought it with their version. I was impressed that it wasn't overly icy, which can often be a problem with sorbets. The biscotti that adorned it was a fantastic complement to a tart final treat.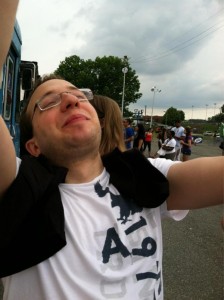 Evan: I shared a lot of food with Micah, but here's a couple of additional things I tried.
Borinquen Lunch Box: I started off my day with their fried green banana stuffed with ground beef, and it was real good. I'm a sucker for anything with plantains, and this did not disappoint. It was a delicious way to kick off the event.
Sinplicity: This picture says all you need to know about their 70% bittersweet chocolate ice cream.
Steve: I came later and was able to try a couple of trucks with my girlfriend Lorna.  Bringing a partner to events like these is perfect because it allows you to sample more without putting a hole in your wallet.
Big Cheese: I decided to try their gazpacho, as it is one my favorite soup.  It was okay, though not standout.  When you are getting food truck food, stick to their specialty. There is a reason it isn't the gazpacho truck.
Tops American Food Company: The guys over at Tops American Food Company hooked us up with one of their bratwursts and holy hell was it delicious.  This massive sausage was covered in tomato, onion, green pepper, and a magical concoction called Jo-Jo Sauce.  A mayonnaise based spicy sauce, the closed thing I can compare it to would be spicy mayo that you would get on sushi but with a little more southwestern twang.  Expect a full feature on this truck in the coming weeks.
Stella's Popkern: After this we tried Stella's Popkern, one of two popcorn trucks in attendance.  We went with a bag of the salted caramel corn.  It was good, perhaps could have been saltier, but for a relatively low price we got a big bag that we snacked on for the rest of the day.
Carnivore BBQ: Finally we headed to Carnivore BBQ and got a pulled pork sandwich.  Unfortunately I don't think we caught them on their best day.  After many hours of food truck festivities, the Carn folks were down to only one sauce (their basic mild BBQ) and the BBQ itself really wasn't even hot.  Though this was disappointing, I think it was truly a function of the strain this event puts on these trucks that are used to serving only the lunch rush.  So hopefully next time I hit up Carnivore it will go a little better.
We had a great time at Trucko de Mayo. It didn't break the bank (it wasn't particularly cheap) and really offered up a selection of trucks that you might not normally try/be exposed to (for Micah the sweet trucks were a prime example of this). Truckeroos have been a staple of the summer and we hope they continue. Next time one rolls around, expect to find us wandering around looking stuffed, but satisfied.