When it comes to good, quick takeout food, we here at Eat the District love a good piece of roast chicken, especially when it's cheap. There are many chicken places in the city (Evan already went to El Pollo Sabroso and loved it), and we'll probably get to a bunch more before we're all said and done here. That being said, not all of these places are created equal. Roast chicken, while a pretty simple dish, can easily end up dry and tasteless in the wrong hands. There's no worries about that when you eat at Chicken Out.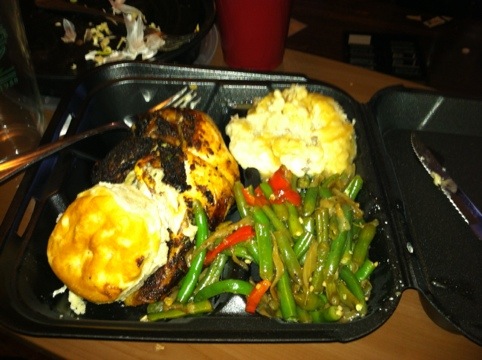 The Tenleytown area isn't known for its cuisine, but Spring Valley, which is pretty close, is home to a number of good restaurants, I recently discovered the cheekily-named spot Chicken Out. The deal to get is the Quarter Chicken with 2 sides. The chicken comes either original, barbecue, or Cabõs: I recommend either original or Cabõs (a spicy coating). The Cabõs is an especially interesting option. A peppery 7-spice coating, it brings some serious flavor with a kick at the end. The chicken is juicy and doesn't taste like it's been sitting under a heat lamp all day, a common problem for your typical grocery store rotisserie. I usually go for the white meat, which gives you a hearty breast and wing.
The sides are awesome too. I'm a big fan of the Apple Cornbread Stuffing and Caramelized Onions & Mushrooms. To top it all off the quarter chicken comes with a biscuit, which I usually turn in to a little chicken sandwich. All of this combined runs you $10. I can usually get a meal and a half out of it, so we're talking cheap eats for sure. These certainly aren't you're only options (they are constantly rotating sides in and out) and the mashed potatoes, both sweet and regular are excellent. With sides both hot and cold you'll have plenty to choose from.
The only DC branch is in Spring Valley, but there is one in Old Town for you Virginia dwellers. If you're looking for some good cheap chicken, this place is totally worth the trip.