Welcome back to our 2nd of a two part piece on Pork Barrel BBQ. Yesterday you read my interview with co-owner Bill Blackburn (what? you didn't read it? go and do that NOW), today I'm going to talk about the food.
Let's get this out of the way: the food at Pork Barrel is phenomenal. They turn out consistently moist and tender barbecue and everything I've had there is delicious. When eating barbecue I tend to favor beef barbecue, and so today I'm going to talk about two of their dishes that you may not know about due to your love of pork. When Bill and I spoke he told me that he sells about 3 to 1 pork at the restaurant, but let me tell you, no let me urge you to try the beef at the place called Pork Barrel.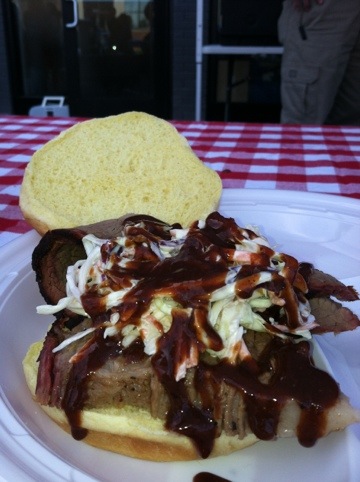 For me when it comes to BBQ it's hard to beat a brisket sandwich. The bun is hearty enough to absorb the juice from the meat and the ample sauce I usually slather my sandwich in. The brisket is the perfect balance between too lean and too fatty; too moist and too dry. You're getting perfectly smoked flavorful brisket.  Add some cole slaw and you're in business.
The secret of the menu that Bill turned me on to when we spoke was the Texas style Beef Sausage. They don't sell a lot, but they sure should. It's a really great dish, and certainly one that I hadn't tried before. The sandwich is a sausage link cut in half and smoke once again to perfection. I won't claim to be a sausage expert, but I thoroughly enjoyed the hearty beef flavor that made it stand out from your typical sausage or bratwurst.
Pork Barrel got their start in sauces and at the restaurant you certainly get the high quality you expect. I'm a big fan of a sweet tomato/molasses based sauce and the sauce you're getting at Pork Barrel's Sweet Sauce is one of the best that I've had the privilege of tasting. It's a thick sauce, but not too syrupy. It pairs brilliantly with the brisket. For the sausage, the bar manager Justin recommended the Mustard BBQ Sauce and as I expected he wasn't wrong. Sausage and mustard go well together and this is no exception. The Mustard BBQ Sauce packs a kick that you won't miss and won't regret.
Now, Pork Barrel is inexpensive, but I wouldn't call it cheap. BBQ almost never is. But as BBQ in DC goes, I feel comfortable putting it under the Bargain Bites category because they do offer some stellar deals. The Pitmaster Nachos is Pork Barrel's take on the traditional nacho platter. Piled high with chips, cole slaw, meat, peppers, cheese, and everything you're looking to stuff your face with you're going to get a mighty good deal. Happy hour offers some really good deals on beer, rail drinks, and some tasty sliders.
Go for lunch, go for happy hour, go for dinner. You're going to get a good meal served to you by good, friendly, knowledgeable people. Try out one of their vintage sodas while you're there (drinking a cold Ale-8 is worth it). If you see Bill or Justin tell them I sent you and chow down. You won't regret it.