Al Dente, formerly known as La Forchetta, changed its name due to similarities with other restaurants both in DC and worldwide. Still the same menu, still the same chef, still the same review!
As an Italian, it's a bit difficult to review an Italian restaurant. So many of my perceptions and opinions surrounding Italian food are inevitably wrapped up in memory and nostalgia, not driven by taste alone. No pizza will ever be better than Emilio's around the corner; no spaghetti and meatballs will ever be better than my Dad's on a Sunday. When it comes to these comfort foods, any restaurant has little chance of competing, which is not exactly the best mindset going into a review. But La Forchetta, a new Italian restaurant near American University, isn't simply going for traditional comfort food.
This new collaboration from restaurateur Hakan Ilhan and Chef Roberto Donna aims for that niche between traditional Italian-American dishes and the sort of upscale, fancy food you'd expect to find at Fiola or Graffiato. Think artisan pizzas, homemade pasta in rich sauces, and an extensive list of hot and cold small dishes to start your meal. And while it may not make you completely forget the Italian food you grew up on, it's a great spot to grab a delicious Italian meal in the district.
Let's start with the pizza. Not only did La Forchetta's owner Hakan Ilhan implicitly challenge DC's best-pizza-place-by-consensus 2Amy's by setting up shop close to 2Amy's neighborhood, he declared shortly before they opened that La Forchetta was out to take 2Amy's crown. I'm not ready to declare a winner yet (if only to give myself an excuse to keep stuffing myself with pizza at both restaurants!), but La Forchetta's version was definitely a worthy contender. Our whole group ordered the Margherita DOC – an Italian government designation that indicates the pizza is made using only a certain type of flour, yeast, and salt and contains no toppings other than Italian plum tomatoes, olive oil, fresh basil or dried oregano, and either buffalo mozzarella or fior di latte. They were delicious, exactly the testament to good ingredients that DOC pizza is meant to be. My one complaint was the crust: in the middle of the pizza it was really soggy, either due to too much sauce or not enough heat in the oven. To be fair, I had a similar problem on a visit to 2Amys, but it definitely made the pizza a bit difficult to eat.
It'd be a shame, though, to limit yourself to the pizza, because La Forchetta's strength may be the rest of its menu. Appetizers were great – polenta fries were a fun Italian take on the traditional french fry, a hot dish of small bread balls (which seems to have been taken off the menu) showed off the kitchen's smooth, delicious tomato sauce, and Micah raved over the prosciutto-wrapped dates stuffed with gorgonzola. Sfarrato soup, a tomato soup with grains and beans, was appropriately homey and rustic. La Forchetta starts off a meal the right way.
Pasta dishes were delicious as well, and the quality of Chef Donna's homemade pasta really shines through. The pillow pasta stuffed with spinach and ricotta in a Mascarpone cream sauce was incredibly rich, though the pasta itself remained nice and light. Agnolotti filled with veal, beef, and pork were denser and packed with flavor , and the butter, sage and Parmigiano sauce is a perfect pairing. With pasta dishes this good, you may never want to order a pizza.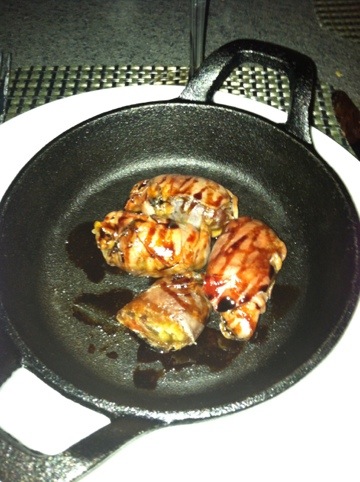 This restaurant is not without its fair share of problems. While the complimentary bread to start off the meal is good and fresh, La Forchetta insists you pay for anything to dip it in, and presses the point by not serving butter. The order of spinach and Ricotta pillow pasta, though a rich and typically filling dish, was simply not enough food; the plate came with only four pieces of stuffed pasta. Finally, as a number of reviews have mentioned, the service at La Forchetta is not yet in line with the quality of the food or the prices you're paying for it. We were treated a bit gruffly, served one appetizer well after the others came out (though the kitchen sent out a freebie to make up for it), waited far too long for the check on one occasion, and on another were charged the wrong amount. I'm willing to chalk this up to the growing pains of a brand new restaurant, but it's definitely an area where La Forchetta must improve.
Overall, though, La Forchetta is a tasty Italian restaurant and, perhaps even more importantly, a credible option for a nice night out in an area sorely in need of these. Take your parents or a date and sit outside if the weather is nice, or take a table near the pizza oven or the open kitchen and watch the cooks work their magic. La Forchetta may not be home, but inside they know how to cook Italian food.