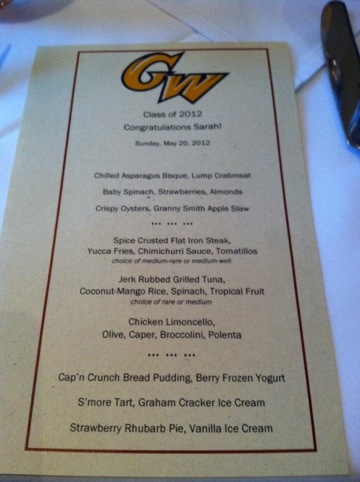 This past weekend we welcomed GW's class of 2012 (and Georgetown's) to the ranks of the college graduates. With this time comes the traditional celebratory dinner. I was honored to attend the dinner of known eater Sarah Orton. The restaurant of choice, Chef Geoff's in Tyson's Corner. With outposts in Friendship Heights and downtown DC, the Tysons Corner location is a more subdued affair (though not in our room, things were certainly rowdy). The menu was hand selected by the graduate herself and boy did she make some good choices (all on the actual menu, so you too can recreate this meal).
We were offered three choices for three courses. For my appetizer I went with the Crispy Oysters with Granny Apple Slaw. Now, I couldn't really taste the Granny Apple in the slaw, but it really didn't matter. The oysters were fantastic. Not over-fried, and not overly "oyster-y" (I don't do raw oysters). They were crispy, but retained a softness and tenderness that really brought some nice flavor. Even one notoriously picky eater in our party loved them.
As an entree I went for the Jerk Rubbed Grilled Tuna. The fish was perfectly cooked, with a pink center. The rub added a zesty spice that was complemented by the sweet and sticky rice. The fish was fantastic, but I could literally eat that perfect rice forever. The fish was over a sautéed spinach. Normally I don't enjoy cooked spinach, but with the sweet rice and spicy fish it worked perfectly.
Dessert, now I cannot say enough about dessert. I went with a Strawberry-Rhubarb Pie. It was perfectly tart and fresh. With a little powdered sugar and a delicious vanilla ice cream I was in heaven. I was first introduced to Strawberry-Rhubarb Pie a few years ago, and since then it's quickly risen up the Lubens pie rankings (Pecan, first; Key Lime, second). This version of Strawberry-Rhubarb was certainly in the running for one of the best I'd ever had. It perfectly complemented a wonderful meal. I went home full and happy, and that's the only way to go home.
Chef Geoff's is a wonderful place to celebrate a special occasion. It's also just a great placeto get a good meal that's a little more expensive than you might normally go for (Pro Cheap Tip: check out the happy hour deal). With three locations, find the Chef Geoff's nearest you and chow down.