This past weekend, the food world was buzzing about GoogaMooga, the food and music festival held in Brooklyn and featuring both food and talks by celebrity chefs.  Our good friend and Brooklynite Matt Berk attended and gives us all the details about what he ate and drank, as well as some tips for any DC people who might want to make the trip to New York for next year's festival!
This past weekend 40,000 people showed up to The Great GoogaMooga in Brooklyn's Prospect Park. Googa-what? GoogaMooga is a self described "amusement park of food and drink," a place where people wait in line for a lobster roll about as long as they would for Space Mountain. Over 100 different vendors representing restaurants, breweries, and wineries from all over the nation were in attendance serving up signature dishes and delicious drinks. Music also played a crucial part as performances went on throughout the day from headliners like The Roots and Hall and Oates.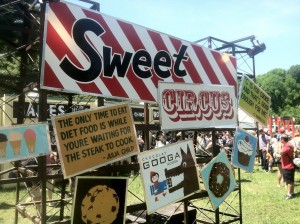 Admission was free but the food was anything but. We found prices ranging from $2 for a pickle to $15 for a grilled cheese sandwich with foie gras and horse bologna (which was delicious). The assortment of specialty beers on tap was between $10-$13 plus two dollars extra for a reusable glass. Lots of cash and lots of friends will go a long way towards your enjoyment if you choose to go in future years. Splitting the various dishes (both literally and in price) allows you to try everything you want and still have room for one more.
Speaking of the dishes, there were a few stand out highlights. First was a pork belly taco sold by Colicchio and Sons (the restaurant owned by the famous Top Chef judge). Crisp and flavorful, the pork was served in a soft tortilla with lettuce and some seasoning. It was a welcome difference from the classic or even Korean fusion type preparations you find in a modern taco. Another was the Chihuahua dog from Crif Dog (a local New York restaurant on St. Marks). This is no ordinary hot dog. It's wrapped in bacon and topped with avocados and sour cream. Finally, while not my favorite, many were raving about the foie gras doughnuts. More savory than sweet, they were served with strawberry jam which surprisingly complemented the liver filling.
To wash it all down I'd recommend trying one of the interesting drinks from Brooklyn Soda Works. With flavors like Grapefruit Mint and Cardamom Cream Soda, you've never had anything quite like it. For those of you that would rather have beverages of the alcoholic variety, Brooklyn Brewery's brewmaster Garrett Oliver helped organize the event and brought a lot of amazing choices. While there were a lot of other beers represented, Brooklyn brewed a beer strictly for the festival and brought along tap-only favorites such as "The Concoction" and "Brooklyn Blast!"
When GoogaMooga rolls around next year we hope to see you there. If you do come, one word of advice: get there early. This will greatly enhance your experience and leave you time to take a break to digest all the deliciousness and then go back for more!