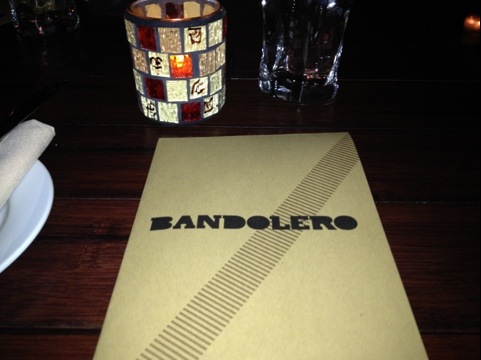 One of the young women at the table next to us had gotten up to go to the bathroom, and the other was focused on her phone, carefully Instagram-ing pictures of what she'd eaten. Our friend Amanda gently leaned over and said softly, "You might want to look up." She lifted her head to find Top Chef celebrity and Bandolero head chef Mike Isabella sitting across from her, calmly pretending to play with her friend's phone. Rendered near speechless, she stammered a few words of small talk with Chef Isabella before he got up and moved on; she immediately turned to us and said, "Oh my god, I felt like a 13-year old girl!"
Bandolero's first night was filled with a lot of little moments like this one, moments that made the evening feel like a combination of restaurant opening and movie premiere. Isabella was everywhere, taking pictures and signing menus. The restaurant — decorated all in black with red-tinged lighting and wrought-iron fences that gave a distinctive sense of being caged throughout your meal — was constantly buzzing, vibrating with the hum of people who were present not just for dinner but for an event. You could have gone for the atmosphere and a margarita-on-tap (flavored with blood orange juice, it's a great drink to sip with your food) and come away satisfied that it was a night well spent. But despite all these extra trappings, it's clear Isabella is focused on the food, and Bandolero is serving up some real good high-end Mexican-inspired cuisine.
Like Isabella's first project Graffiato, Bandolero does away with the traditional three-course meal, instead encouraging diners to order a number of small plates and share. It's a format that encourages you to try as many different dishes as you can, and we took on the challenge with gusto. We started with "La Cata," a sampling platter of Bandolero's three snacks that lead off the menu. The guacamole with salsa on the side was a good version of a classic, and the totopos — tortilla chips dressed with cold ranchera salsa and served with a side of crema, or Mexican créme fraiche, for dipping — were an interesting twist on your typical chips and salsa. While both very tasty, they couldn't compare to the sikil pak, a pumpkin seed, jalapeno, and orange dipping sauce with fresh pomegranate seeds on top, which was absolutely delicious. When Isabella stopped by our table later in the meal, Amanda implored him to bottle and sell it: it was that good. Scooped with either the tortilla chips or chicarrones that accompanied these snacks, it was a perfect start to the meal.
Tuna taquitos were a fantastic next step. The dish comes off as Mike Isabella's take on a tuna roll, with the tuna cut like tartare, mixed with ginger and sweet potatoes, and served in a small hard taco shell. Extremely fresh and incredibly delicate, we can't recommend it enough as a first course: it's packed with flavor but not too heavy. The blue crab taquitos weren't bad either, but don't make it your first choice: the tuna is the thing to eat.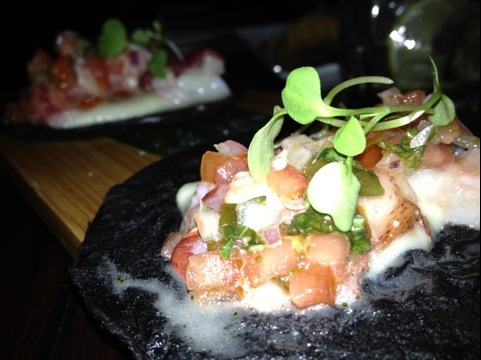 Next came out a round of tacos. Our table feasted on lobster, suckling pig, and chicken tacos. The lobster, with a topping of corn, tomato, and basil, was quite good, starting with that sweet lobster flavor and ending with a slight kick. Suckling pig was even better; the incredibly moist pork and flavorful habanero mustard was cut perfectly by a sweet apple slaw on top. But the standout taco was the chicken, enhanced with a fantastic BBQ sauce, some poblano chilis for heat, and a crunchy plantain topping. Recovering from a brief delirious spell after taking his first bite, Micah instantly declared it to be the best taco he'd ever eaten. An order of these is an absolute must.
Our final round of savory food was from the traditional menu, and the mole negro, sopes, and corn and potato empanada did not fail to impress. Each dish was packed with flavor and hewed more closely to your typical Mexican cuisine. We didn't expect it, but we were particularly taken with the empanada, which came resting on a poblano stew with peppers. Just a single bite revealed a succession of flavors, from the corn's sweetness to the flavor of the peppers to the heat of the chile. It was really some outstanding cooking, and Evan, despite his initial misgivings upon looking at the menu, fell in love with the dish.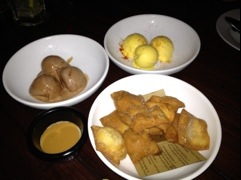 Save some room for dessert if you can. The Mexican donuts with dulce de leche sauce were a worthy end to the meal, and both the spicy mango sorbet ñ with habanero mixed in and topped with some arbol chili powder — and the Mexican chocolate ice cream were delicious, and brought some spice to the normally sweet dessert course. We can't promise these will be there when you go, though: sorbets and ice creams change seasonally.
While Bandolero certainly impressed, we did have a couple of small gripes. Bandolero isn't necessarily the most accommodating: extra chips cost a whopping $5 (we passed), and we were told that even though the ice cream and sorbet comes with three scoops, you can only try a single flavor per order. You also can't ignore the price: it is a little steep, and certainly more than we at Eat the District would typically spend on a night out. It's worth it, though, for the innovative, intensely flavorful food you'll be eating. And by the time we were done with our meals and Isabella came by to take a picture, we were grinning like everybody else, happy to be celebrating the opening of a great new restaurant in DC.