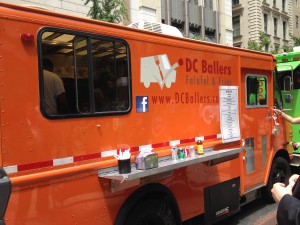 It is hard to make a food truck stand out in the difficult and competitive landscape of Washington DC's rolling eateries.  Some trucks fall through the cracks.  It is my belief that this occurs most often when a truck refuses to specialize.  The most obvious example of this is the nameless halal food truck.  If you frequent Farragut or L'Enfant's lunch hours, you have seen these.  The all offer permutations of gyro, chicken or falafel with rice, pita, hummus and other various Mediterranean street food staples.  They are all lacking in that certain something that makes them memorable or stand-out.  DC Ballers rejects being relegated to generic hell and instead decides to specialize in a couple of items and do them as right as they possibly can.
The star of the DC Ballers menu is their Falafel sandwich, which at $6 is well worth it.  The sandwich is hefty.  It is packed full of their signature fried chick pea orbs that have earned them their "Baller" designation.  These bad boys are really flavorful and you taste all the fresh Mediterranean spices that you are craving while getting a nice crunch from the deep fried outer layer.  The sandwich also has hummus, pickled cabbage and a show stopping tahini.  All this is packed into one of the freshest, fluffiest pita pockets I have ever had.  It is clear that this sandwich is the star of the show over at DC Ballers.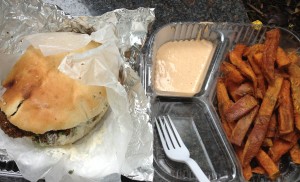 That being said there is another side to this giant orange food truck coin.  The Fries.  An
order of standard fries runs you $3.5o.  They looked good.  I didn't get them.  Want to know why?  Because Sweet potato fries are the same price.  Uhm… Hello?!?! No brainer, sweet potato fries, hands down, every time, and DC Ballers did not disappoint.  The fries were very thick cut but tapered down at the ends.  So each fry had that crisp you wanted at the tips, but you were able to enjoy the decadent sweetness of the yams in every one.  Each fry order also includes a dipping sauce.  I love sauces for fries, so this excites me.*  The options include chipotle aioli, mint aioli, saffron aioli and garlic sauce.  I had the chipotle and it was nice and spicy with that great chile smoke that sticks to your taste buds in the best way.
Lastly, and perhaps most importantly for me, as I will definitely need to make a return trip for it, DC ballers is serving up poutine (cheese curds and gravy over fries).  DC's poutine quota has been going unfilled without Wonky around to run train.  RIP.  But DC Ballers is offering a big heaping helping of poutine for $5.50.  This development is reason enough to hit these guys up.
Now, they were not perfect.  Service did take a hot second.  Also, they lack a large window which reduces some of the patron/chef interaction that makes food trucks so great and unique.  I also could have used slightly more sauce with my order of fries, as I tend to really sop the stuff up when I attack it.
Other than that I have no complaints.  This is a really solid truck.  When you get that chick pea fever, hit it up.  Bring a friend and get some nice jumbo sandwiches and split yourselves an order of poutine.  You won't be disappointed. Follow them @DCBallers on twitter
*Very side note:  I love french fries.  I think they are so tasty.  They are also the perfect delivery system for any number of amazing condiments.  Ketchup is great.  Sweet and a little tangy, ketchup is a great way to amplify your fry.  But it isn't the only way.  I spent some time in the European lowlands (specifically Belgium) perfecting my snootiness and while there I learned to enjoy my fries with mayonnaise.  Gross you think? Mayo is ewwwww you say?  Two words: Get. Out.  Mayo rocks.  With everything.  Especially fries. Anyway, knowing these facts, you are equipped to make the perfect French fry condiment.   In most sophisticated circles it is known simply as SAUCE. Some may say it is called fry sauce or mix or ambrosia, but no matter what it is called, it requires only three simple steps:
1. Get some Ketchup
2. Get Some Mayo
3.  Mix 'em together
Boom.