Bagels. Everyone loves bagels. I'm pretty sure that's a fact. I've written about bagels here on Eat the District before (in it's older incarnation). Bagels Etc. used to be my weekend stumble out of the apartment go to. But I've gotten older, friends and I've moved north to Tenleytown. The options here are more limited, especially when it comes to bagels. The best option is a quick drive north to Bethesda. There you're presented with two options: Bethesda Bagels and Georgetown Bagelry.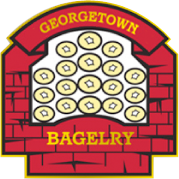 While both are excellent options, everyone needs their bagel place. The one where you know they're going to make what you want, the way you want it (as I've said before nowhere in my mind will ever top my hometown favorite, Cafe Bagel). My friends, the place for me in the DMV is Georgetown Bagelry. Located not in Georgetown, but on River Road in Bethesda, this place makes some serious bagels. Fresh and full of flavor Georgetown Bagelry easily wins the Bethesda bagel war.
Their bacon, egg, and cheese is fantastic and perfectly greasy for a Saturday or Sunday morning. The eggs are made on a grill (microwaved eggs are a no-no) and the bacon is that perfect mid point between crispy and chewy.  All of this on a toasted whole wheat everything bagel (WHAT?!?) make for perfection.
The prices are really good there too. The classic BEC comes to around $4, but the bagels are big so you're getting a lot for your money. Georgetown Bagelry is also extremely social media friendly. Hop on foursquare and get those check-ins rolling because they always have specials. Right now you're first check-in gets you a free bacon egg and cheese (Evan signed up for foursquare just to get this deal). This past time I got my loyalty check-in which entitled me to a free dozen tasters (imagine a small chunk of bagel good enough for dipping in cream cheese).
So take a trip to Bethesda, skip the lines at Bethesda Bagels, and get your bagel fix. In an area not known for its bagels, Georgetown Bagelry hits the spot. And don't forget to check-in.