Last night, the Eat The District Crew was invited to Tonic at Quigley's Bar and Restaurant over in Foggy Bottom for the roll out of their new summer menu. This truly was an event to remember, and if you are wondering what it is you should be ordering next time you are at this GW campus hotspot, we've got the scoop for you. But before we get into the food, lets showcase some culinary architecture.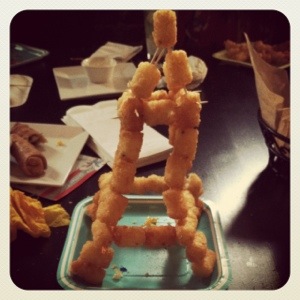 Upon arriving at the party we were greeted and quickly introduced to one of the most important events of the night, the kickoff of Tonic's new #playwithyourtots campaign. Given plates, toothpicks, markers and stickers, guests were tasked with designing something out of Tonic's signature tater tots. From surfing to scenes of war to a pretty accurate looking giant crab, the competition was tough so we knew we needed to go big or go home. Enter the Eiffel Totter, a three story structure made entirely of toothpicks, tater tots and French nationalism. Our mega-structure won us the competition and a generous gift card to Tonic, that after tasting their menu, we are very excited to use.
The food came out in small plate, tasting sized portions so that we could try each and still move. So as I discuss these dishes keep in mind that your full order maybe slightly different in size and construction. I will start from the beginning:
Texas Eggroll: Kicking it off with a nice appetizer, this classic southwest eggroll was actually I nice light way to start. While most dishes like this have muddled ingredients and a lot of grease, Tonic's eggroll was very clear and simple. Made with tender chicken, corn, black beans, onion, peppers and cheese, you could taste every ingredient clearly, resulting in a pretty good bite. My only complaint would be that I expected a little more spice in this Texas dish, but served with a cilantro lime sour cream, you can tell they are going for fresh, rather than trying to burn you out.
Thai Chicken Satay: Another appetizer, the satay was simple and again, nice. Again, tender chicken but this time on a skewer, covered in a satay sauce and crushed peanuts. Once again, there is freshness and simplicity in the dish that I admire and while it wouldn't necessarily be the first thing I would order off the menu, it was a nice bite.
Cous Cous Salmon Salad: It was at this point that Tonic kicked things up a notch. My first bite of their Israeli Couscous with fennel, shallots and artichoke hearts was the best thing i had ever eaten at Tonic until that point (it would later be overthrown). This Couscous was perfect, with a cool freshness along with the bursts of flavor from the shallots and other accouterments. The salmon atop the dish was flaky and pretty and fit really nicely bringing the whole thing together. It was served on a bed of arugula, which was there more to reinforce this dish as a salad than to be a part of it, because it distracted a little bit from the wonder that was the couscous.
Char Sui Chicken Pizza: Another show stopper. The Char Sui pizza used hoisin sauce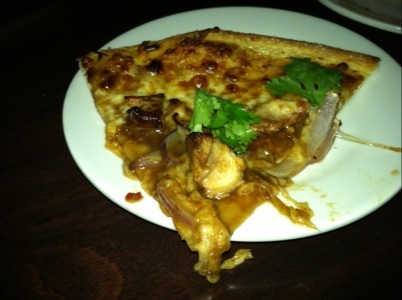 in the place of pizza sauce and topped the whole thing with red onion and Korean bbq chicken. This pizza is pretty decadent and messy and packs a sweet and smoky punch that will leave you wanting more. With this dish, Tonic showed us once more that it is thinking outside the box and is interested in bringing some really unique and exciting dishes to the table.
Sliders: Next came two sliders. The first was a miniaturized version of their classic pulled pork sandwich.  The second slider, a smaller version of Tonic's new Aztec Burger, was the highlight of the course. For the second time of the night, I had that 'this is the best thing I have ever eaten here' moment. Covered chedder, guacamole and a chipotle aioli, this burger was really standout. The star here was the patty, which I love to see. The meat was blackened on the outside and perfectly cooked and spiced on the inside. I have no doubt that this will become a local favorite.
Mac n' Cheese: Another signature dish, this mac was good. Nice and creamy with some not too heavy elbow noodles, it was pretty standard fare. Again this dish became a testament to the improvement that has gone into this now much improved menu. It stood in stark contrast to the final and I would say undoubtedly best dish of the night.
5 Spice Ahi Tuna: "Best for last." "Tastiest bite." "Yummiest Omnomnom?" So this dish was so good that it is difficult to sum up in few words. I have been saying "best thing I have had at Tonic" a lot and while it is true for this dish. This amazing take on a tuna taco was one of the best dishes I have ever experienced in Foggy Bottom (after going to GW that says something) and is up there on my list for all of DC. Sushi grade, lightly seared ahi tuna, served on a bed of pickled cucumber and all on top of a kimchi pancake all topped with a wasabi cream. We were told that the best way to eat was to roll it up like a taco, and we were told right. It was an overall experience. The tuna was excellent. The Wasabi cream gave you just enough punch that you felt it, but was cut by the coolness of the pickled cucumber. And as a kimchi freak, the pancake was a luxury. It was light and airy and brought the whole thing to a remarkable close.
All in  all, an amazing evening.  With a lot of really tremendous food options being added to the menu, Tonic is definitely somewhere you should check out or take a second look at.   The Foggy Bottom food scene just took a step up. And when you're there don't forget to #playwithyourtots and post your pictures to Instrgram, Facebook, Twitter, or your other favorite social media outlet.
Stay tuned tomorrow for a look at some of Tonics cocktails in a special Friday feature.