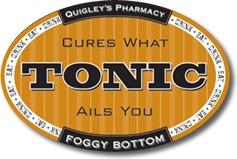 Yesterday, we took a gander at Tonic at Quigley's new summer menu offerings.  But today it is Friday and to get you jonesing for that liquid fun, today we will take a brief look at some of Tonic's signature cocktails.  Each one that was sampled will be given a rating in Bangs, either one, two or three Bangs will be awarded.  These Bangs are to be considered and measured against the Buck, whatever that entails… Here goes!
Peach Sangria: (Pinot Noir/ Creme de Cassis / St Germaine /lemon juice) Where does all that peach flavor come from?!?!? I believe that flavor is coming out of the St. Germaine which is actually an elderberry liqueur, but you get it in full.  This sangria is as juicy and refreshing as it gets. BANG BANG
Mojito: (Mint/rum/simple syrup/c'mon you know whats in a mojito)  Its good, its refreshing but it is just your basic mojito, get it if its what you crave, otherwise get something more exciting.  BANG
La Fleur: (Hendrick's gin/ creme de cassis/ St Germaine/ lemon juice/ Bubbles?!)  This drink rocks.  The gin works so well here making your mouth all confused.  You know its fruity but you also know you are getting that pine needle thing that comes when you hitting the gin.  Also its got that bubbly champagne vibe!  A wonderful and unique cocktail, it gets the BANG BANG BANG
Category 5: (Malibu/ Meyers/ Christian Brothers Brandy/ Grenadine/ Pineabpple juice served on the rocks)  You like rum?  This drink is for you all the way.  Don't like rum? Steer clear, this one may be a little much for you.  Due to personal preference and the presence of better cocktails, it just gets one BANG
Orange Crush: (Smirnoff Orange/ Crushed Orange slices/ Orange Soda)  Orange is my favorite color so I am already won over.  This drink rocks its super refreshing and tasty.  SO much so that I think I am going to make it at parties.  It gets a BANG BANG.
The Ron Burgundy: (Glenfiddich/ Sweet Vermouth/ Jasmine Liquor/ honey /served on the rocks) Saved the best for last here.  I don't love Scotch.  Fellow Eat The District writer Evan really likes Scotch.  We both loved the Ron Burgundy.  It is like Scotch plus.  You get all the wonderful Scotch flavor with an added smoothness and sweetness.  This cocktail makes me want to grab my Jazz Flute and celebrate.  BANG BANG BANG
(There are still more drinks to try on Tonic's Cocktail Menu, if you get a chance to try one, let us know!)