A sushi bistro speakeasy? Who is that bartender in suspenders and a bow tie hanging near the sushi chefs?  Is that Karaoke I hear starting.  These are just some of the questions you will have upon your arrival at Flying Fish in Alexandria.  This place is confusing.  Perhaps you would say that it is 'confused', that this restaurant isn't quite sure what it wants to be.  It throws your mind into a bit of a jumble.  The dissonance of restaurant genre is disconcerting.  But after my visit, I walked out thinking mostly, that I had just had some of the most interesting maki rolls that I have ever tried.
Lets start with some of the weird.  The decor is nutty.  The stucco walls and strange decoration make you anticipate a plate full of enchiladas rather than Japanese fare.  The restaurant seems to be something of a maze, with rooms coming off of rooms, and plenty of hallways and steps.  The Menu is something of an oddity with shrimp and grits, a bouillabaisse, and a whole pasta section all alongside some classic tempura offerings.  The strangeness compounded when, after we ordered, we were brought breadsticks.  Yes they were sesame seed covered, but they were breadsticks at a sushi restaurant nonetheless.  The were served with what I guessed was 'wasabi grits,' but I was kindly informed that it was wasabi hummus.  And it was good!  The wasabi was very clear but not overpowering and the breadsticks worked nicely.  How very odd.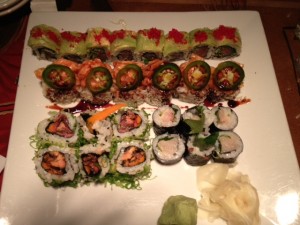 The sushi menu is something else entirely.  It may be odd but in no way is it disconcerting.  It is big and filled with enticing and unique offerings.  Unfortunately, unable to try all of the sushi, we settled for four maki sushi rolls.  This is their story (dun-dun).  We chose two of the more simples rolls first.  One was a salmon skin roll.  One of my new favorite rolls, salmon skin is the closest that you can get to bacon when nomming down on sushi.  It is crispy and fatty and salty and perfectly flavorful and Flying Fish's salmon skin really stood up.  It maintains all of these flavors while still tasting fresh and not too heavy.  We also tried the shiso and smoked salmon roll.  Shiso is a japanese member of the mint family and i was excitedly nervous when I saw the bright green leaves rolled up with the smoked salmon in this sushi roll.  It rocked.  Mint and sushi mix.  Really well.  This roll was super refreshing and had a cool mildness that was extremely pleasant.
We also two of the more inventive rolls to really get a feel for the uniqueness of the restaurant and the ingenuity of the sushi chefs.  We were not let down.  The E-Citron Roll was intense.  Spicy tuna, cucumber and cilantro topped with avocado, 7 spice, red tobiko and a very thin slice of lime.  This roll was a big blast of citrus before you hit the tuna.  It tasted like the beach in the best way.  A helpful hint, if you don't want such a big hit of the lime eat the roll lime down so that it is not the first thing to hit your tongue.  You will still get it but you will have it rolled in with the other great flavors.
Our last roll was one of the best sushi rolls I have ever eaten.  The Sake-Tume Roll consistes of salmon avocado and spicy mayo topped with more spicy salmon, eel sauce and a thin jalapeno slice.  Again I recommend eating this jalapeno down, so you get the heat but dont burn out your tongue.  The salmon topping this roll is piled high and bursting with flavor.  The spice makes the whole thing all the more exciting.  This sushi roll was truly a luxurious and exotic bite.  The kind of thing that I could eat forever and never get bored.
So truthfully we only scratched the surface of the Flying Fish menu.  But we learned many  things.  Yes this restaurant is something of an odd duck.  It definitely marches to the beat of its own drum from a culinary and design standpoint.  But it has some really innovative sushi that will throw you for a loop.  There is currently a scoutmob running on this joint so head over to Old Town Alexandria while you can and enjoy.