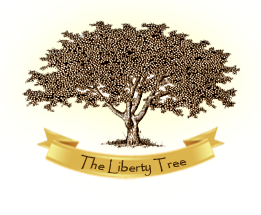 There are some restaurants you go to in order to be surprised, to taste exotic dishes or strange combinations or old favorites re-imagined in ways you never thought possible.  And then there are restaurants you go to when you want to feel at home, to sit in a comfortable setting and eat the foods you're accustomed to, maybe with a slight change or a bit of flair, but never straying too far from the original.  The Liberty Tree is decidedly the latter and all the better for it.
A small restaurant on H Street NE, you could easily walk right by if you weren't looking for it.  The main dining room is tiny, with no more than 10 tables and about 10 additional seats at the bar.  That's fine when the weather is nice, because the outdoor seating in the alley next door is where you'd much rather be.  I've had very few more pleasant experiences in DC than sitting outside here with some friends, drinking a beer and noshing on their excellent french fries.  Thin-cut and well-salted, they come standard with cider vinegar on top, but they won't say no if you ask for parmesan cheese and truffle oil instead, which usually comes atop the onion straws.  Both options are delicious.
An even better appetizer is the Brussels sprouts, fried nice and crisp and served with a creamy garlic sauce.  Eaten alongside the special one night of butternut squash soup, which was good if a little bland, they could be a meal of themselves.  Or instead get them alongside the house salad and ask for the toasted goat cheese on top; the wedge of breaded and fried goat cheese turns your typical mixed salad you could make at home into a fantastically rich version. It's a perfect example of comfort food turned up a notch.
The meatball sandwich is great, with a decent amount of spice and covered in provolone cheese, and it comes with more of those delicious fries.  The rigatoni with bacon and peas in a sundried tomato cream sauce is tasty and wonderfully filling, though I wanted a bit more smoky bacon flavor in the dish.  I've heard great things about their pizza as well, though I've yet to try it.
What you see is what you get at The Liberty Tree: no tricks, no fuss, just simple food cooked well. Amid the bustle and nightlife of the up and coming H street area, it's a wonderful place to sit, relax, and just be comfortable for a couple of hours.  So head over here, take a seat outdoors, let yourself feel right at home, and chow down on some great food.