For today's post I decide that it was time I get out and hit the streets. I couldn't let Steve have all the fun with our rolling kitchens. There are so many great ones out there. So many big names. Today I want to tell you about the one you haven't heard of and why it might be the best one there is. In a city where food trucks have exploded, where every cuisine has a truck and every truck has a witty name, El Chilango is sticking to the important stuff, namely, cranking out insane food.
El Chilango isn't a pretty truck. They aren't on twitter, and they don't even have a website. You won't find them on the Foodtruck Fiesta map. Located near 14th St N right off route 50 in Rosslyn/Courthouse, this truck for the most hangs out in the same spot. For $2 a pop you can pick from 6 options: Lengua (Tongue), Chorizo (Sausage), Asada (Steak), Pollo (Chicken), Al Pastor (Pork), and Vegetarian. All come on double wrapped grilled corn soft taco. All are serious.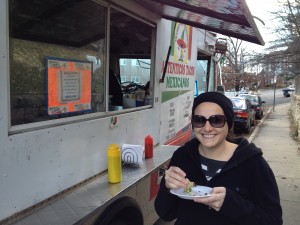 The tacos from El Chilango just taste better. The meat is grilled to perfection and the salsas are fresh and give the tacos a kick. If they aren't super busy ask if they'll make you some habanero slaw. This is the game changer with the tacos. With a hint of lime and the power and spice of habanero, this stuff makes your taco, as my boss puts it, "All world." If you're lucky and things aren't too crazy you sometimes will get a free taco while you wait. One of these free tacos introduced me to mixto, basically mixing meats. I always do this at Chipotle and hadn't really considered it until the amazingly friendly proprietor handed me a free one to sample. I wasn't sure exactly which meats he had mixed together, but I didn't care, it was fantastic.
I usually go with 3 tacos. It's enough to fill me up (though many go for 4). If I get a free one while I wait all the better, but I'll happily pay the $2/taco price. Add to that a fantastic Mexican soda (I go with Jarritos Toronja, grapefruit) and you have yourself a cheap amazing meal.
They're open Monday-Saturday 11am-8pm. So get yourself outside while the weather isn't oppressively hot and snack on some crazy amazing tacos. These bad boys are the real deal. This truck proves you don't need to be flashy and drive all over the city to be successful. You have to dish the goods.
Update: Our friends over at Washington City Paper posted yesterday about El Chilango's move to brick and mortar. We're really excited for this U St area restaurant. Expect to see me there often.