We talk about Cleveland Park a lot here at Eat The District.  Maybe too much.  But the commercial stretch of Connecticut Avenue betwixt Porter and Macomb is truly a culinary gold mine.  Establishments such as Ardeo-Bardeo, Ripple, Medium Rare, and Palena would deter some restaurateurs from jumping into this packed culinary environment.  But just a few weeks ago, owner Dino Tapper (also of Logan Circle's Floriana)  brought his newest creation, Pulpo, into the mix. I am happy to report that this Cephalopod focused Tapas spot does not disappoint.
For those who don't know, Cephalopods are a class of mollusk including such notable members as the squid and the octopus.  Pulpo in fact means octopus in Spanish, and with plenty of squid and octopus art adorning the industrial chic dining room, you start to get an idea of where this place is going.  Dino's vision is derived from a desire to step away from the heavier food of Italian eatery Floriana and to approach some more exotic ingredients and options with a lighter touch.  Coming up with simple and sophisticated small plates and unique and vibrant presentations, Dino and the folks over at Pulpo really get to play with their food.
I went to Pulpo in a group of four.  My advice is to get dishes that everyone wants a couple bites of, split them evenly and ask that they come out one at a time.  This will give you time to process each offering individually and trust me when I say that each dish you eat will provide plenty of conversation.  Also, this will slow down the meal.  This is not a restaurant where you will be stuffing your face, so take it slow, you will be more full and more relaxed.
We had to start with the restaurant's namesake, The Pulpo.  This small plate consists of a grilled octopus tentacle resting atop a bed of fingerling potatoes and greens with spicy brava sauce.  All of this comes on a black strip running across the white plate.  The nature of this black substance was confirmed by our waiter to be squid ink.  The octopus has the familiar chew that you would get from something like calamari but the flavor that the crispy sucker covered outside got from the grill was smoky perfection.  The squid ink was intriguing.  With a caviar like saltiness, it tastes like the sea, but be warned, it may dye your mouth black.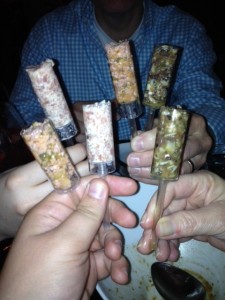 Two dishes that really stand out in terms of plating are the lollipops and the bone marrow.  The lollipops are reminiscent of push pop popsicles and they come with three flavors.  The octopus is strong and salty and accented with capers.  The anchovy pop felt like a condiment, with an pickled saltiness that was almost like a relish.  The standout was the tuna lollipop.  The rich and sweet tartare was so good that I found myself wishing it was rolled up into sushi to make the perfect roll.  The delivery system was a bit awkward as you aren't really able to put them down until they are finished, but you will likely finish pretty fast. The Bone Marrow was served in bone, topped with pesto and accompanied by some pickled onion and okra.  This dish is for the more adventurous eater.  The bone marrow, which you spooned and scraped out of the bone is fatty and luxurious.  It is one of those dishes that felt so wrong, but tastes so right.
The Brussels sprouts were also notable.  We had this dish early in the meal but whenever it was ordered by a table near us, the smell would continue to taunt.  The sprouts were lightly tempura fried and had a nice strong flavor.  They sat in a bowl with a bacon vinaigrette that both the manager and the waiter told us was the best part.  Not surprisingly these disappeared very quickly.
We also had the chorizo paella, one of three paella offerings.  These dishes are slightly larger than the other small plates and great for sharing.  The tender and flavorful black bombay rice was very tasty and with the spice from the chorizo and the crunch from the vidalia onions, we were left very satisfied.  Oh, and there was also a welcome return of squid ink.  Lastly the steak tartare was nice, if slightly mild compared to the flavor of the other dishes.  It was served with a light pickled radish salad and some garlic crostini.
The dessert standout was surprisingly the chocolate chip cookies.  Thick, soft and warm, these cookies are pure goodness.  What makes them shine above the bread pudding is that the cookies are served with a mug of warm frothed milk for dipping.  A thoughtful and smartly unique touch.
This restaurant has a ton going for it.  With an attentive wait staff (I promise you will never want for water), an inventive and unique menu and an owner with a clear and vibrant vision, expect Pulpo to become a real area staple.  And surprisingly this high quality restaurant wont break the bank.  With eight different dishes and several drinks, we were pleasantly surprised to find that our bill came in at less than $3o per person.  So consider Pulpo for that third date or birthday or really any time at all.  You will be very pleased that you did.