Usually when you hear talk of a fusion reaction, it is during a discussion about binding nuclei and the quest for a sustainable energy source.  Well, the fusion reaction I had upon biting into one of Wassub's delicious fusion sandwiches was a reaction of a different kind.  The party in my mouth kind.  The "why is my co-worker quietly moaning into that sandwich" kind.  Fusion is a relatively common theme running through the food truck community.  This is a good thing.  It allows for more variation and promotes culinary exploration.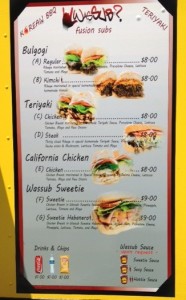 The gentlemen driving the black and yellow Wassub truck are just that: culinary explorers.  I have talked about both Korean food and Philadelphia cheese steaks on this blog.  Wassub decided that they would fuse the two together and create something that my conscious mind had not yet even conceived of.  These Korean subs are seriously hardcore saliva inducers and the Wassub team knows it.  With a poster stating that your sub will be better than sex, these sandwich makers are confident.  And they should be, their sandwiches are bomb.
I was able to sample two of their seven sandwich offerings and both were very pleasing.  The first, a bulgogi sandwich with kimchi, was extremely reminiscent of a classic cheese steak.  Offering a good amount of their marinated ribeye, this sandwich also came with provolone cheese and mayo.  But the Korean flavors came through very well.  The kimchi was nice, pickly and crisp with a touch of spice and the sandwich had an egg on it.  These two elements combined with the very tender bulgogi beef to make me feel like I was eating a standard Korean entree, except instead of rice, it all sat on a fluffy sub roll.  If that doesn't sound awesome to you, you need to reconsider your choices.
I also tried their chicken teriyaki sub.  A big warning with this one: you are going to want to grab some napkins.  This sandwich is more of a standard chicken sub, topped again with mayo and melted provolone as well as lettuce tomato and onion.  And all of it is covered in their 'homemade teriyaki sauce' which to me tasted more like a hoisin sauce similar to what you would use a pho restaurant… I found myself mopping it up with a fork so none would go to waste. The juicy chicken breast and cheese and veggies made this a good sub.  The sauce drenched bun made it messy, memorable and outstanding.
Two subs that I cannot wait to try next time I head to Wassub are their 'Wassub Sweeties.' These two chicken subs add a Polynesian twist with ham and pineapple.  One comes with standard sweetie sauce, while I imagine the habanero version delivers a far greater kick.  Thankfully this is not the only way to try their sauces.  Wassub has available for request, Sweetie Sauce, Sexy Sauce, and Hottie Sauce.  These three spicy mayo dipping sauces come in order of ascending hotness.  The Sweetie has an almost fruity mild flavor while the Hottie ramps up on the chili heat.  All are terrific.
Now the $8 to $9 price tag is a little steep for just the sub and I was left yearning for some sort of delicious fusion side to go along with it all.  As they already have kimchi on board, I would have loved to have had a big pile of the Korean staple to go with my sandwich or maybe just some kind of fry to dip in their luxurious mayo sauces.  But the price is not too hard to swallow considering these sandwiches are truly unique creations that will leave you thinking about bulgogi beef and Sweetie Sauce for a week.  And with only a month of operation under their belt, I think we can expect to see many more exciting things come out of this truck in the months to come.
Holler at Wassub on twitter @wassubdc