Red Toque Cafe, on the corner of R and 6th Street NW, is an unassuming little restaurant; its website boasts not of a fancy new chef or a special summer menu but of their "new" (as of April 2011) awning.  Inside, though, is a charming neighborhood spot, with counter service for quick takeout or tables for sit-down dining. More importantly, they're offering up some tasty Middle Eastern-style food. This place isn't perfect, and the menu definitely has some misses, but there are enough hits to make this "local neighborhood kabob grill" a regular on your Bargain Bites rotation.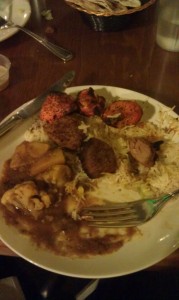 Let's start with the not-as-good.  Red Toque Cafe's kabob platters are just not up to par with some other offerings around the district, particularly those at Food Corner Kabob House.  The side order of rice it comes with is nothing special, and the vegetables toppings I ordered – potato curry and cauliflower – were both  small in size and lackluster in flavor.  The salad was nothing memorable, and the bread lacked the same delicious crunch that makes me want more at Food Corner Kabob House.  Simply put, if you're looking for a full meal of meat, sides, and veggies, you'd probably be better served elsewhere.
The sandwiches, though, are a different story.  For all my problems with the platters, the meat was always cooked perfectly, and you'll be extremely happy getting it stuffed into some pita bread with lettuce, mayo, and chutney, the latter of which adds a welcomed amount of spice.  Chicken, beef, and lamb – each sauteed with onions and tomatoes for an extra level of flavor – were all well-seasoned, tender, and juicy: not a dry piece in the house.  These sandwiches will easily fill you up, and the price?  Only $5.99 for chicken, beef, or kofta (ground beef), and $6.99 for lamb.  It's a steal.
But while Red Toque Cafe's kabob sandwiches are great, the best thing on the menu might just be the falafel.  My girlfriend – a known falafel enthusiast – has declared it her favorite in the city, and it's not hard to see why.  The kitchen here makes their falafel balls large, which allows them to get that perfect crunch on the outside while still retaining that soft chickpea goodness on the inside.  The sandwich does only come with tahini and lettuce, tomato, and onion, so falafel eaters used to the toppings at a place like Amsterdam Falafelshop might be disappointed.  For the chickpea balls themselves, though, you just can't beat this place.
While somewhat of a mixed bag, the quality of many of Red Toque Cafe's offerings, along with their great prices, make this a worthy location to grab a good sandwich or fill that falafel craving.  Just look for their bright yellow awning, stop in, and eat up.