In the Ledroit Park neighborhood — on the border with Shaw — on Florida Ave, you find a curious site. Sitting at 400 Florida NW is an Arthur Treacher's Fish and Chips. Now this in and of itself wouldn't be that curious. There are roughly 45 Arthur Treacher's in the United States, but this is the only of its kind. Why? Well a sign on the exterior this Arthur Treacher's proclaims $6.99 for Bulgogi and Rice. This isn't an uncommon trend. A number of Korean owned restaurants have branched out from their traditional roots and added bulgogi or bibimbap (King Street Cafe, which will appear here later is one such restaurant).
Chris Shott did a write up on this AT's status as the only Arthur Treacher's that serves the expanded unofficial menu. He focuses more on the novelty of the concept rather than the food itself (his piece is worth read, check it out here). But what about the food and the dining experience? I took a trip recently to explore this DC oddity. First off, it's true that they really serve Korean food in this British style fish and chips chain. That's the first thing you need to accept. When you walk in it's surprising how small the restaurant is. It's hardly more than a counter with a few seats to wait for your food to be prepared. There are no tables and no place to eat inside. So your options are take it home or sit on the curb (or head over to nearby Ledroit Park). In addition to the Bulgogi there a number of other options including Bibimbap and a Bulgogi sub. I went with the classic bulgogi.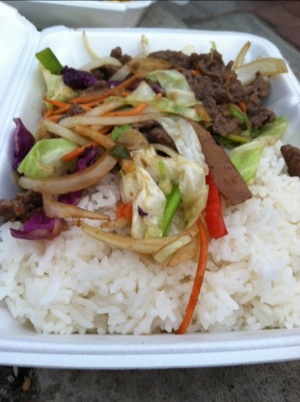 How was Bulgogi from an Arthur Treacher's Fish and Chips? The answer ranges somewhere from mediocre to good. This is really to be expected. The meat is a little stringy and overall it's on the blander side. I think it would need more sauce (either sweet or Sriracha) to kick it up. That being said it's $6.95 and it's a good deal of food. I would also be interested in trying out some of the other options next time I go, and yes there will be a next time.
At the very least it's worth a trip to check it out, if nothing more than for the curiosity factor. The food won't break the bank. And you'll be surprised that a fish and chips joint does Korean so well.