We've talked in the past about the neighborhood deli. It's a great thing. The place where you go where the owner knows your name and knows your order. The food's inexpensive and you can get it and get out without much fuss. I told about one of Del Ray's with Market 2 Market. Today I'm venturing over Old Town to hit up another excellent spot, King Street Cafe.
In an area known for its good food, King Street Cafe may be one of the area's more unassuming spots. It really is a hole in the wall. A few small tables offer a little bit of seating, but other than that this place is strictly to go. If you're a regular you're greeted with a friendly hello by the owner who very possibly knows your name. If you're new, you will still get that treatment, and her warmth makes you want to become a regular.
The food though is really what will make you want to become a regular. With so many great sandwiches to choose from it's hard to make a choice. My go to has become the tuna (surprise, surprise) on pita with lettuce and tomato. It's simple, but effective. The tuna is sweetened with a little bit of dill relish, and the pita is fresh and light.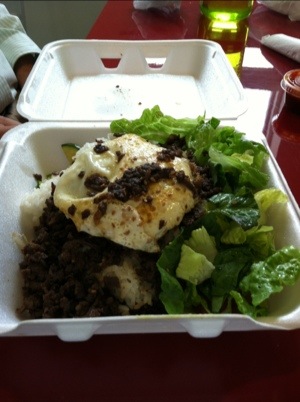 I told you the other day when I went to Arthur Treacher's that I would be back with another unexpected bulgogi spot, and King Street Cafe is it. Home to both Bibimbap (available Thursday and Friday) and Bulgogi (available Wednesday-Friday) these specials are worth a back half of the week visit. The meat is fairly tender and the veggies with the Bibimbap are fresh. It came with a sauce that was described as being hot, but had a hint of sweetness and is almost certainly gochujang. When asked what to choose, I was instructed that the Bibimbap was the superior dish. It was hard to argue with the expert and the results spoke for themselves.
This place is a rare treat. A really good sandwich shop that offers a very diverse menu (I keep meaning to try the smoothies, but my stomach tells me no) that'll keep you from getting sick of any one thing. Go enough times and get your name remembered. I'm still working my way there, but I'll know I've made it once I get a big hello Micah when I walk through the door.