This post is one of a personal nature for me. It is perhaps going to ramble a bit more than usual, but I promise it's worth it. This is a story about friendship and pizza. The story begins back in 2009. I was living on P St in Dupont, writing for the original incarnation of Eat the District, and happened to discover a magical pizza place known as Goody's. Many of my friends ate there with me in those days and remember Angelina, the pizza chef with quite possibly the biggest heart in the restaurant business. This was a woman who had been making pizza since she was 12 and had perfected her recipe. Her passion and devotion for her customers and for her pizza was palpable every time you walked in.
But in late 2010 Angelina disappeared from Goody's. I was disappointed because the summer prior we had spent a lot of time together. It often occurred as I walked home late from the bars and wandered in to spend time behind the counter hanging out and laughing with Angelina. The reasons given for her absence were vague. She was sick. She was back in Greece. She might come back. Over a year and a half passed and I resigned myself to never seeing my friend again. Because that's what Angelina had become, a truly great friend. I was sad and disappointed and thought of those crazy nights at 2am with Angelina yelling at customers to come in from the street.
Fast forward to this past Friday. I was drinking with a friend at the Big Hunt and we decided to get food. In a fit of nostalgia I suggested the former site of Goody's (now Dupont Pizza Kitchen). We walked in and to my surprise, we saw an old friend from the Goody's days. He surprised me even further by telling me Angelina was not only back, but had a new restaurant. I was stunned and full of disbelief. But he immediately called her and let me speak to her, and it was all too real. She was back.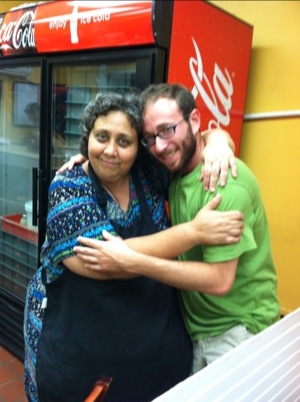 We raced out of the door and booked it over to 725 Florida Ave NW. In what was once Tropicana Eatery, now stands Kouzina Angelina (Kitchen Angelina in Greek). I walked through the door and there she was. Now Angelina won't win a Rammy for Employee of the Year (though this is a distinct tragedy). Her restaurant may not seem like it's the most glamorous (it's a simple counter service) or serve the best pizza. But if you discount this place, you're wrong. What Kouzina Angelina has that all other pizza restaurants don't have is Angelina. A forceful, unique woman. She is the kindest most loving restauranteur that I've ever met. Our reunion was full of tears. It was full of reminiscing of the good old days. It was full of pizza.
When I took that first bite of that slice of Sausage Pepperoni (she had it waiting for me), I was transported. I love this pizza. In a city not known for pizza, Angelina serves up the best jumbo slice in town . Hands down. Sure it's not 2 Amys or La Forchetta. $4 for a slice of cheese and $5 for a premium slice (each slice is 2 normal slices) is a fantastic deal, and the pizza is light and delicious.
For me going to visit Goody's or now Kouzina Angelina is about more than just the pizza. When you're there, listen to Angelina talk. Ask her questions, get to know her. She wants to talk to you. She wants you to be happy. And most importantly she wants you to be full of delicious pizza. So head over to Kouzina Angelina before, after, or during a night out on U St. It's not unlikely you'll see me perched behind the counter, snacking on a slice, looking happy to be home.