If you find yourself at the intersection of 12th and G streets, NW, during the lunch rush, you are going to find that you have a few too many options.  You see, Metro Center is a food truck hub.  It isn't as hectic as Farragut Friday perhaps, but coming face to face (face to truck?) with six or seven distinct rolling eateries can be a grueling decision making experience.  This is the situation I find myself in on a particular Tuesday afternoon.  I decide against hitting up my old standard, Yellow Vendor, because I want to bring you something new.  I pace.  Menu by menu I search for something to catch my eye, something that causes my taste buds to tingle and my tongue to twitch in eager anticipation.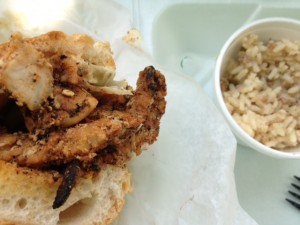 Thats when I see Cajun cuisine purveyor, Bayou Bros.  Scanning their menu, I see some really delicious looking offerings, Jambalaya, Fried Shrimp Po Boy, Fried Catfish Po Boy, Softshell Crab Po Boy.  But the menu item that truly catches my eye is something a bit more exotic.  The Grilled Alligator Po Boy. For those of you who don't know, a Po Boy is a traditional Louisiana sub sandwich served on French bread.  It is usually topped with lettuce, tomato and pickles and either seafood or roast beef.  Luckily for me (and DC), Bayou Bros does one with gator meat.
My Po Boy came with all of the fixin's as well as a nice remoulade, which is like a spicy French tartar sauce.  The sauce on my sandwich gave it a nice tang that accented the meat nicely.  I also received a side of 'dirty rice,' which had veggies and ground beef.  It was nice and creamy and contained all the flavors of the 'holy trinity' of Cajun cuisine:  bell peppers, onions, and celery.
But the standout here was certainly the alligator.  I had never had alligator meat before this sandwich and I was very pleasantly surprised.  It is said to taste like chicken.  I reject this.  It certainly has a relative mildness to it that may be similar to chicken, but it is so much more than that.  The meat has a light chew to it without being notably chewy.  It isn't stringy or coarse, rather it's tender and pretty light.  It has a layer of fat that gives each bite a bit of crunch on the outside and a juiciness on the inside.  Alligator really is unique, and to say that 'it tastes like chicken' is to completely diminish and disrespect its greatness.
The Bayou Bros made their gator all the greater with an intense and spicy blackening seasoning grilled into the meat.  The seasoning clearly had a bit of a chili kick and was nice and peppery without overwhelming the flavor of the  meat itself.  But what might have been best of all was that the sandwich was piled high with meat.  I was nervous that my $11 sandwich would be lacking, as I can't imagine that alligator is a simple ingredient to obtain.  But the Bayou Bros justified their price with a ton of tender tail and rib meat.
This meal was truly a terrific Cajun feast.  I personally can't wait to head back to this truck to try some more of their fantastic offerings.  If you see them out and about, stop by and try something completely new.  I promise you, you will not regret it.
Follow Bayou Bros on twitter @Bayoubros