Dessert might just be my favorite meal (and yes, I consider dessert its own meal). The day just doesn't feel complete without something sweet to eat at the end.  And when frozen yogurt or some cookies just won't cut it, or when family is in town and we want to go out for dessert, I head over to H Street to Dangerously Delicious Pies.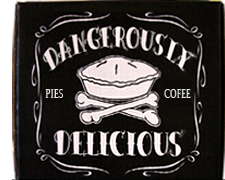 While Dangerously Delicious Pies also serves savory pies and quiches, I come here exclusively for the sweet pies. When you only make one thing, you better do it right, and Dangerously Delicious Pies typically doesn't disappoint.  Key Lime Pie is tart as it should be, while Pecan Pie is nice and rich.  The Chocolate Chess Pie is good but not great; while mostly satisfying, I never get that knockout chocolate mouthful I'm waiting for.
The standout pie, though, is the Baltimore Bomb, a mix of crushed Berger's Cookies from Baltimore and vanilla filling. Berger's Cookies are vanilla wafers topped with chocolate fudge, and they're close to an addiction for some Baltimore dwellers; my mom claims that while going to law school in Baltimore, the workers at the Berger's store knew her by sight. Thankfully for us Washingtonians, they're fantastic in a pie as well, and you'd be remiss not to try this at least once.
Two pieces of advice. First, when you order a pie to eat in the store they'll ask if you want it warmed up. As tempting as it sounds, say no.  The heating process –  presumably in a microwave – turns the crust a bit doughy and tough, robbing you of that delectable crunch you crave in each bite. Second, Dangerously Delicious Pies only makes a few pies each day, limiting your choices both by the slice and for full pies.  Call ahead the day before, though, and they'll make any pie you want to be picked up the next day.  Plan ahead, and you can be eating your favorite flavor in 24 hours.
Dangerously Delicious Pies is open until 3:30 am on Friday and Saturday, so you have plenty of time to wander over for something sweet after hitting the bars on H Street.  They're also open until midnight Monday-Thursday and 10 pm on Sunday, making this spot a reliable after-dinner spot when you're craving dessert.  One word of warning: they close when the last pie is sold, so if your heart is set on some pie, then get there on the earlier side.  You'll be happy you did.