(Editor's Note: Today we're joined by Ben Merkel in what we hope is not his last time appearing here. By day he works at U.S. Senate Committee on Veterans Affairs. By night [and weekend] he cooks up some mighty tasty food)
Okay, okay, I know I'm breaking the rules here at Eat The District, but when I was invited to write a guest post about grilling at home, I couldn't pass up the opportunity to do so. Besides, eating at home is the original bargain bite and with a little bit of practice, can become one of the most consistently delicious places to eat. But most importantly, there are few things like sharing a good meal with good company. Eat The District does a fantastic job at exploring venues where you and your friends or family can share such an experience without walloping your wallets. I hope that this post can be read with that same spirit in mind. Now, before your eyes completely glaze over, let's get to talking about the food.
Burgers over a barbecue. It's a rite of summer, a July ritual–it is arguably the most American meal that one can make.
And yet, those fired pucks of ground beef are almost invariably . . . boring.
Think about the last good hamburger you had? Did it come from a Weber in a buddy's backyard? Or did it come from Five Guys, Shake Shack, or any of the other joints that sprouted up during the Great Burger Fad of Twenty-Aught-Ten? And even in those places, what really made the burger remarkable? I'd be willing to wager it was the variety and combination of toppings and condiments rather than the patty itself. That's because there's an awful and often unacknowledged truth behind hamburgers:
For the most part, ground beef isn't all that flavorful.
Even if you were to grind a high-quality rib-eye, you'd destroy the marbling that is responsible for the cut's superior taste. So what can we do to rescue the venerable hamburger from the slums of Flavortown? We jettison the beef patty as we know it. And that is precisely what a bold cadre of friends and I did this past Sunday.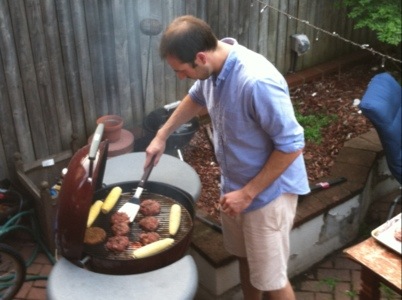 In charting our foray into new grilling horizons, we didn't want to stray too much into the overwrought and complex; Keep It Simple Stupid ruled the day. That led us to two easy, yet irresistibly promising options: the inside-out lamb and smoked mozzarella cheeseburger (as seen on New York Times' Minimalist Food Blog) and the 50/50 beef-bacon burger (as suggested by none other than my dear mother, Barbara Merkel). Both of these burgers required a food processor, but other than that, were straight-forward simple to assemble:
Inside-Out Lamb Cheeseburgers
In a food processor, grind 1.5 lbs of lamb shoulder
Form four patties and place slice of smoked mozzarella in the center
Reform patties around cheese; season with salt and pepper
Grill over a hot grill (450°); four minutes for each side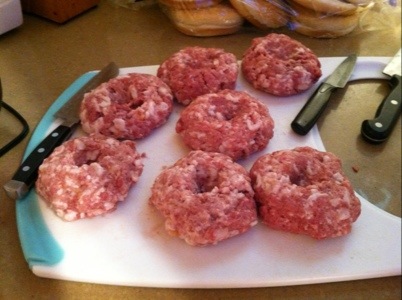 50/50 Baconburgers
Cut 1 lb bacon into inch-long strips and grind in a food processor
Mix ground bacon with 1 lb 90/10 ground beef and regrind in a food processor
Form six patties; season with salt and pepper
Grill over a hot grill (450°); four minutes for each side
To round out the meal, we threw yellow corn and parboiled potato wedges (grillé frites, yo) on the grill and polished everything off with some red velvet cupcakes.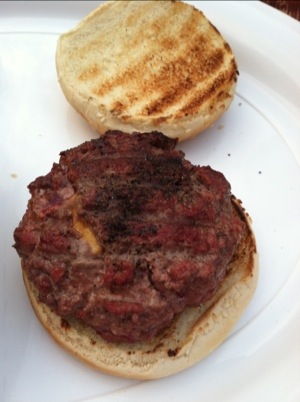 The final verdict: sublime. The smoky char crust adorning the lamb burger gave way to a juicy and decadent core of molten mozzarella. Wedged between toasted sesame seed buns and topped with caramelized onions, vine-ripened tomatoes, and butter lettuce, we had a real winner in our hands (Editor's Note: The lamb burger was Micah's personal favorite). The baconburger was one of the richest things my taste buds have ever encountered. The beef did a perfect job of mellowing the saltiness of the bacon while preserving all the umami awesomeness that we've come to know and crave. Our party was split over which burger was better, but we unanimously agreed that both represented a serious upgrade over the homemade or store-bought burgers of yore. And at around $10/person, it's hard not to ask "Burgers again next week?"