We return again to Cleveland Park for another really great dining experience.  Ardeo Bardeo is an American bistro with a sleek interior and a varied and exciting menu.  Featuring a large central bar, a rooftop and a 14 person communal table, Ardeo Bardeo smartly bills itself as a social destination, a place for classy hangouts and some high end snacking.  This is not the restaurant's only focus though, there is also a devotion to the fine dining experience as evidenced by the detailed artistry of the dishes and the attentive and thoughtful service of the staff.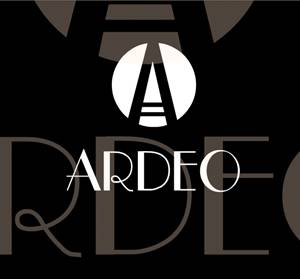 This dual focus does not make for a simple and easy to navigate menu.  On the contrary, faced with the Ardeo Bardeo menu, you are presented with the task of not only choosing what you will eat, but also how you will eat.  The menu includes 10 sections: Savory Snacks, Vegetables, Charcuterie, Cheeses, Small Bites, Soups and Salads, Pizza Di Grano Arso, Pastas, Seafood, and Meats.  Some of these sections could be considered entrees, some appetizers, and some fall into the oh-so-popular right now definition of the small plate.
For my meal at Ardeo Bardeo, we shared a pizza, after which some of us got entrees, while others ordered two small plates for their dinner.  Were I to go back, I would forgo the entrees entirely and focus on the more shareable menu items.  The entrees that I sampled included the black spaghetti with clams, the corn carbonara, and the leg of suckling pig.  All three of these dishes were good, the leg of suckling pig was particularly tender and the portion was extremely generous.  But the standouts on the menu were certainly the smaller plates.
The pizza was delicious.  We ordered the bacon pizza with aged chedder, corn, basil and vidalia onions.  The salty and tender bacon was perfectly paired with the sweetness from the onions.  This was a great way to start off the meal, and was substantial enough to feed a medium sized group.  A second stand out was the fried chicken thigh with biscuit, gravy and smoked honey.  Every bite of this chicken packed an insane punch of flavor and smoked honey is now going on my list of crazy ingredients to order whenever I see it on a menu.
None of these tremendous dishes though held up the best item on the table.  A salad.  Ardeo Bardeo's spinach salad with gnocchi, braised fennel and truffle vinaigrette, is stupidly good.  Also, it's weird.  Never before have I had gnocchi in a salad, but the tender little dumplings were all flavor.  Covered in the not so subtle decadence of the truffle vinaigrette, this dish made me beg for more.  On my return to Ardeo Bardeo, I may order two or three of these salads and call it a night.
My recommendation is to go to Ardeo Bardeo, and sit at the communal table.  If you are lucky, some other folks will join you.  Order a pizza.  Split it with your new friends.  Watch everyone order something that sounds amazing, try everything, you will not be unhappy.  Get the spinach salad and let everyone have a bite.  After the plate is empty and everyone has complemented your genius and foresight, order another one.