When you think about Greek food in DC, not a lot comes to mind. Obviously your mind is drawn to Komi, widely regarding as the best restaurant in the city. But you're not going there every day or to be honest for most us, ever. $150 per person is beyond A Cut Above. So if you're craving some Greek food, where do you go? The Greek Deli isn't open for dinner for us non Farragut folks. DC just doesn't provide a whole lot in the way of Greek. But wait, Cleveland Park once again comes to the rescue. Byblos Deli is out there serving up some mean grub.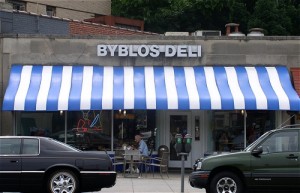 This place is pretty unassuming. In area that's now becoming home to some really fantastic upscale joints (see Pulpo), Byblos is still serving some affordable tasty food. With just a counter where you can order and a few tables, a lot of the business here is to go. But I very much enjoyed eating outside at their outdoor tables. Sitting there I realized how much I enjoy Cleveland Park (and how I hope that the rumors of McFaddens coming to the area have been greatly exaggerated).
But back to the food. You're going to get a lot for your money here. My standard fare is the Byblos Special. This gets you your choice of protein (I got with Chicken) and rice, hummus, tzakiki sauce, and pita. This is a meal that will fill you up. The hummus has roasted red pepper in it, which really adds a lot of good flavor. The meat is fresh and they don't skimp on the tzaziki. All of this runs you just under $9. The sandwich are also a good option if you're looking to mix things up. And if you need something sweet to finish your meal, well look no further than the case of baklava.
So take a trip up Cleveland Park way. See a movie at the Uptown. Grab some fray at Yogi Berry. Take a stroll and enjoy some mighty fine greek food.