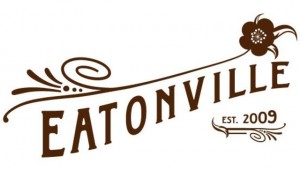 Brought to the U street area in 2009 by Busboys and Poets' Andy Shallal, southern comfort eatery Eatonville brings far more to the neighborhood than it's far oversized dining room might indicate.  Receiving a big thumbs up from Michelle Obama in the form of two visits in less than half a year, Eatonville really is worth trying out.
Before getting into the menu itself, some aspects of my eating experience at Eatonville really stand out.  The oversized dining room, while a bit daunting, is nicely decorated, well lit and allows the establishment to host interesting events like their 'Food &Folklore' series.  Additionally, the service here was excellent, both thoughtful and noninvasive.  Comfort is clearly the name of the game over at the corner of 14th and V street.
Now if you go to Eatonville, the first thing that you need to do is order the honey-cornbread muffins.  Why?  They are two dollars.  Read that again, the honey-cornbread muffins which come bundled in a basket of four muffins, are two dollars.  Until my visit to  Eatonville, I was under the strong impression that nothing cost two dollars, especially not something as moist and flavorful as these muffins.
Second, put the cocktail menu away, I will tell you exactly what to order.  Most of their drinks sit from at the just too expensive mark.  Order the $3.50 lavender lemonade.  This drink starts off tasting like lemonade.  After that, it starts to taste like delicious flowers.  It isn't overwhelming at all, rather it is subtle and beautiful and nice.  Order it and enjoy.
Their main courses seem to be fantastic as well.  I ordered the shrimp and grits and I was more than pleasantly surprised.  A ring of smoked tomato beurre blanc filled with pieces andouille sausage is your first delicious taste, followed by a flavor packed mound of jalapeno gruyere grits.  Atop this mountain of insane mouth watering savory spice sit five massive prawns.  These aren't cocktail shrimp, these big boys have almost a lobster like flavor and texture.  My only warning to you is that you really should not eat this entire meal before going and playing a soccer game.  I got through it, but only by sheer force of will.
You probably don't need me to tell you that their macaroni and cheese and their cajun fries completely rock.  My only regret is not trying out their collard greens, which as a rule I usually look to at a southern restaurant.
This is a restaurant that you should try, believe me, you will leave stuffed, satisfied and, like Michelle Obama, coming back for seconds.