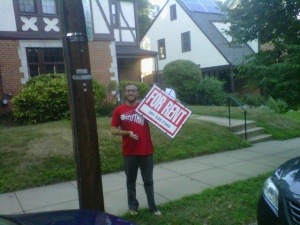 As many of you know for the past year the Eat The District gang has made their home in the wilds of Tenleytown. Well those days are about to end. We are relocating to the equally wild and, more importantly, food rich U Street corridor. It is with a heavy heart that we leave our cityburb home. But alas times change and it's to move onwards and upwards. Before I left the upper NW I thought it would be wise to offer a few parting thoughts on the Tenleytown area.
Tenleytown is a neighborhood without a food identity. Given the fact that the neighborhood is comprised of upper middle class families, this is surprising. There are no marquee dining spots. In fact, the most arguably upscale restaurant in the area, Murasaki, is on the edge of upscale. The best dining option is probably The Dancing Crab, but it's a bit on the pricey side. It is a neighborhood that is very reminiscent of the Palisades. The Palisades features a major thoroughfare (MacArthur Blvd.) in a largely residential area near a suburban college campus. Instead of offering bland options, the neighborhood has a few major gems. BlackSalt, Kotobuki, Figs, Sur La Place (and others) are all fantastic options. Tenleytown offers nothing remotely similar. A few bland options and chain dining restaurants pale in comparison to the surrounding neighborhoods. Cathedral Heights, Chevy Chase, Cleveland Park, Glover Park all have signature restaurants and have a made a name for themselves as culinary destinations. Cleveland Park, in particular, has had a renaissance in dining. It seems like every other day a new and awesome option opens its doors (hopefully their will be no McFadden's spin-off ruining the vibe). Tenleytown and it's neighbor Friendship Heights are deserts.
And this is surprising. Tenleytown is home of American University. Parents come in at all times and the area is always busy with students and young professionals. But where are the restaurants? When I return to Tenleytown, the only restaurant I could imagine going to is Steak and Eggs. That's the landmark. A 24-hour greasy spoon is Tenleytown's signature dining destination. And while we're always down for cheap eats and greasy spoons, this is hardly the place you want to hang your hat on (and I LOVE Steak and Eggs).
But maybe things are looking up for the Tenleytown (the home of Z-Burger and the when will it ever arrive Z-Sandwich) area. There's a Cava Mezze incoming, and two recent closings (Armand's and Ruby Tuesday) could lead to new quality restaurants. Bryan Voltaggio's impending arrival at the Chevy Chase Pavilion (in Friendship Heights) may lead to a trickledown effect on the upper end of Wisconsin Avenue.
I'm going to miss living in Tenleytown. I love the quiet and I have enjoyed the neighborhood. I won't however miss the utter lack of dining options. The thought of being on U Street near Kouzina Angelina, Tacos El Chilango, Izakaya Seki, Taylor Gourmet, Standard, etc. makes me giddy with anticipation. I hope that times will change, but with very little hope, I'll see you in the rearview Tenleytown.