As I said this morning, I love delis. Italian delis, Jewish delis, if they have sandwich I'm all in. The DMV has a lot of great Italian deli options. However, where's the pastrami? A few spots loom on the horizon (we're looking at you DGS), but if you're looking for your handcut Katz-esque pastrami on rye or dark rye you had been pretty much out of luck.
Hold that thought. Stachowski's in on the scene. I'd been hearing rumors of the mighty deli located in the spot of the old Griffin Market (a place whose closing I mourned). It took me a while to get up there, but now I'm kicking myself.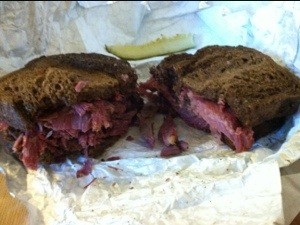 Holy Pastrami! This is what I'm talking about. Gone is the thin sliced meager portions you're going to get in 90% of the places in DC. Gone is the mediocre bread that's been sitting in a bag for days. Here we have a juicy pastrami, some hearty pumpernickel, and some tangy spicy brown mustard. This bad boy is a beast. It took me two meals to polish this one off. That's good considering the $12 price tag. But oh is it worth it. The pastrami is thick cut and hot and wonderful.
This town doesn't do delis like New York, but Stachowski's is looking to change the game. Tucked up there on the corner of 28th and P St you're going to find some serious sandwiches. They also carry a lot of meats, jams, breads, cookies, and other delectables. Fresh produce and some mean looking chocolates can easily find there way into your shopping bag.
If you're craving a sandwich that you're just not getting in DC, make moves and head on up to P St. They've got some "all world" sandwiches. The walk to get there and back from wherever you're coming from will do you some good after eating one of these gut busters. You'll be happy and full, and with this lovely fall weather thrown in there, you can't ask for more.