AND WE'RE BACK! We've heard your cries and our New Years Resolution is to get back to blogging. I know you've heard this from us before, but we have a plan and we're back in business. Expect the Morning Roundup Monday-Friday and new features Tuesday-Thursday. This will keep us fresh and keep you entertained. We missed you all very much and we got a lot to talk about. For now let's hit the roundup.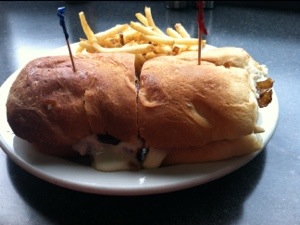 Must Buy: I'm going to break my rule about posting old deals. Because we've been off for so long I need to give you something special. A few days ago Scoutmob offered a deal to what might very well be the best sandwich place in DC, Fast Gourmet. They make a crazy sandwich on the corner of 14th and W (in a gas station) and while $5 discount isn't a ton, this is as no brainer as it gets.
Must Buy: I've heard a lot of great things about the cooking classes at LivingSocial's 918 F St space. Today's deal is $59 for 2.5 hour Moroccan cooking class. This is a four-course hands on meal taught by an award-winning chef. If you like cooking and you like Moroccan food, you can't pass this up. An extra $20 will get you VIP admission which includes: a glass of champagne, a "take-home novelty glass", and one of the best seats in the house. With a number of nights to choose from this sounds like a fun night out.
Fifty-Fifty: Now I don't know much about tea. I don't particularly like tea (I'm a coffee man). I can't even say that I really like iced tea. With that in mind, I'm not the best person to judge today's Groupon to Capital Teas. $15 for $30 looks good (the average tea here runs about $8), but that might be a terrible deal for tea and their tea might not even be good. That's why I'm leaving this one at Fifty-Fifty.
Fifty-Fifty: If you're craving pretty good Indian food out in Rockville, then today's Google Offer is right up your alley. $20 for $40 to Spice Xing (100 Gibbs St., Rockville, MD) is good for you MoCo residents. The good is solid and with this deal you can get two entrees and some bread for the price of one. If you live in DC I'm not sure I'd make the trek, but that's why we have fifty-fifty here at ETD.
We started off strong this week, we'll keep the ball rolling tomorrow.