We're halfway through and if you're like me, you may now just be getting back to health. I don't know what hit DC, but boy have I been sick. Finally feeling better, here are some deals that might make you feel a little better:
Must Buy: Glover Park is a pretty good dining area. There's a lot of solid options and good deals to be had. Today's Scoutmob for Bourbon (2348 Wisconsin Ave., NW) is just one such deal. Offering solid food and good drinks, this $15 discount (excluding happy hour) will get you on your way. It's not going to cover everything, but with no pressure to buy we're hard pressed to say no.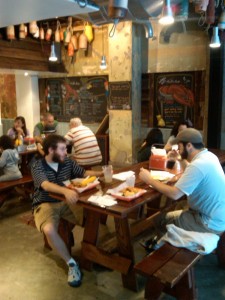 Must Buy: I always enjoy good seafood. DC doesn't have the best reputation (outside of crabs) and probably deservedly so. But if you're looking for some fried seafood, the kind I remember growing up with as a kid, there aren't a lot of options. Tackle Box in Georgetown (3245 M St., NW) is one of the few places where you're going to even close to some good greasy fried seafood. Today's Groupon gets you $15 for $30. This is going to get you a lot of food. This place was a favorite back in old ETD days as you can see by the size of my beard.
These two deals will keep you going today. Check back later for a second installment in our newest series, The Cook's Books.