Last night I was kicking around a few ideas about where to feature next. And then it hit me, and I thought to myself, duh! GW Deli. How have I not talked about it yet? If you know me you know I love delis and I love GW (cue a snide, "did you go to GW?" from ETD web designer Jordan Sheckman). But it's true, this place like no other is home. I've been eating here for the last seven years (less regularly now), and everytime I bite into a sandwich it tastes exactly like it's the first time.
Now this is your standard to go counter deli. You wait in line (often perilously long, don't lose faith), order your sandwich, and pay. Find your own place to eat. As you wait in line, take note of the wide variety of chips, drinks, snacks, frozen meals, fruits, etc. You're going to be tempted by something, so just prepare to give in now.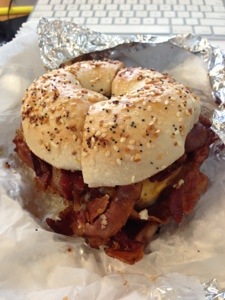 What to get? Everyone has their GW Deli (pronounced G-Dub Deli) favorite. I'm going to give you my two go-tos. The first is a classic bacon, egg, and cheese on an everything bagel. Now this isn't gourmet. This is greasy, clog your arteries deliciousness. You need not fear that they're going to skimp on the bacon. They pile it one here, and it's the perfect balance between chewy and crispy that I love. If you're a bacon lover, this is a sandwich for you.
Now my second pick is a little less obvious (primarily because it's not exactly on the menu). Take the chicken cutlet sandwich, but put it on a multigrain kaiser. From there add provolone, bacon, lettuce, tomato, and dress it with honey mustard. This is the ingredients to a showstopper (also a heartstopper). This loaded high behemoth is a truly unique sandwich. With so many flavors bouncing around it's going to be hard to know what to do. Just enjoy it.
GW Deli is a sentimental favorite. Located in the heart of my alma mater, I've eaten here more times than any restaurant I have reviewed for ETD and so this makes me biased. But look at the lines and look at me three years removed from school still making the pilgrimage to visit Joe and wolf down a breakfast sandwich. You can't go wrong with GW Deli. As they say at GW, something happens here (I know it's a bad motto). Something definitely happens at GW Deli.