Yesterday, like many of you, I enjoyed watching the snow fall from the comfort of my house. I didn't brave the outdoors and fortunately could work from home. Had this been 2013 I likely would've had a few old eggs and some freezer burnt meat available. But my plan for 2014 has been to stock up on good food and prepare more meals at home. And so far it's working. On Sunday you can almost certainly find me at the H St Giant or Union Market (or both). With many good options to choose I did what any food obsessed person would do on a day in the house, I ate…a lot.
So here without further ado is my 2014 Snowed In Food Diary. This will also serve as a window into my warped eating mind.
Breakfast: As everyone knows the key to a successful day is a good breakfast. I did not disappoint here. In fact, I went a little wild. Two slices of marble rye toast. One with butter, the other with butter and cottage cheese. For those of you that might be thinking, gross, stop right there. Toast with cottage cheese is absolutely incredible. I'm not going to debate you on this point, it just is. I paired that with a slice of cantaloupe (also with cottage cheese, I could do a whole post on cottage cheese). I paired all of that with a bowl of Wheat Chex (the best of the Chex varietals). To drink I had a wonderful cup of coffee from Swings. After this meal I was understandably full.
Lunch:  Lunch was a smaller affair after my breakfast binge. I ate 1/3 pound of corned beef (not in a sandwich, just out of the bag) because again I'm weird. As a side I had hummus and pita chips as well as a really really good bleu cheese dip from Righteous Cheese (shout out to Hannah Goldstein on this one). For dessert I had a sugar free popsicle (got to stay healthy right?).
Snacks: As the snow kept falling things got a little weird. I went a little snack crazy. Presented in no particular order are the order assortment of snacks I had between lunch and dinner. Apple with peanut butter (one of the top snacks in the game), a clementine, baby kosher dill pickles, and Buffalo Cheddar waffle cut Cape Cod potato chips (these really aren't that good). That is the downside to being trapped at home with a lot of good food and having a problem where you can literally eat all the time.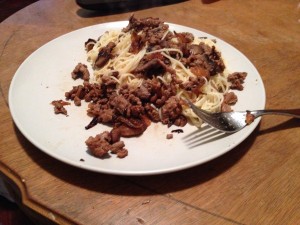 Dinner: Now after those snacks you'd think I was done eating for the night. Oh no no my friends. Dinner was planned in advance. Monday night I stir fried 2+ pounds of ground turkey (an incredibly versatile product by the way) with mushrooms and onions. Tuesday night was leftovers. Served over a bed of angel hair pasta, this was a great way to end the day….
Dessert: Nah just kidding, I ate three cookies made by our dear friend Sarah Orton with a big glass of milk.
In summary, I ate too much. I'll see you at the gym today.