There's an old cliche that the British have terrible food. I guess it must have come from somewhere, but everything you read (and everything I've experienced) indicates that that may be overwrought. And if Duke's Grocery is an any indication of what they're doing over in England, I'm moving immediately. Located on 17th St. near such legends as Komi, Little Serow, and Sushi Taro, Duke's Grocery is a pretty unassuming spot that's delivering up some some really tasty fare.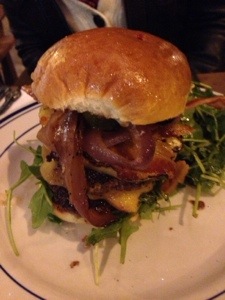 Their menu rotates daily (albeit slightly) so make sure you check out Facebook for the daily menu. Their sandwiches (or sarnies as they call them) are the featured players, and they really don't disappoint. The price ($9 for lunch/$12 for supper) are well worth it. The Proper Burger is on another level. A double patty piled high with top notch fixings (gouda, sweet chili sauce AND garlic aioli, etc) make this beast one that's difficult to tame. Add a fried egg and grab a few extra napkins because this thing is delightfully messy. Mayma's Polpette is a genius take on the meatball sub. The ciabatta is perfectly crispy and the meatballs are on another level.
The showstopper, however, is an appetizer. Their Mac and Cheese is better than I remember every time I have it. Caramelized onions add an incredible sweetness to the gouda and gruyere cheesiness. I cannot even begin to speak highly enough of this dish. It comes out hot and bubbly and is just delicious. If you don't order it when you go I don't know what you're doing.
I'll say the side salad that comes with the sarnies is kind of whatever, but you're not at Duke's Grocery for the salad. Pair your meal with one of their excellent beers (bottles only) and have yourself a good night. If it's warm their patio is a great place to eat, relax, and do a little people watching.
They just added breakfast this week, which I have to imagine is great. Get yourself over to 17th Street quickly and thank me later.