Yeah I know we've been on hiatus. I haven't been ignoring you. Life is complicated, and things fall by the wayside. I'm sorry. I know you miss us and we miss you. But this is not the story of our comeback. This is the story of my 7 hours in and around LAX. This post was inspired by Cara, friend of ETD.
After completing a 10-day family vacation in Oregon and Palm Desert I prepared for a routine flight home. Palm Spring to Phoenix to DCA. Easy. Well fate had something else in store for yours truly. Mechanical failures in Palm Springs led to an epic journey. What does this post have to do with food you're thinking? Well I'll get there. Hold your horses.
The delays in PSP were going to cause me to miss my connection in Phoenix. Faced with unpleasant options and even more unpleasant options I decided on taking a bus to LAX where I would get to take a red eye to Charlotte at 1045pm and a connection to DCA at 730am arriving in DC at 845am, just in time for work! At this point it's 1pm Sunday. Well the bus turns out to be a minivan and the minivan turns out to be full. Fine. I got shotgun. To our driver's credit she kept the tunes going, except she had trouble picking a station, so scan would be our guide. For two hours. I'm okay with a little music ADD but this was borderline psychotic. A key nap spared me a lot of the misery of this two hour drive. Before I knew it I was at LAX with 7+ hours ahead of me. No car, no plans, nothing.
Now one of my California rituals is going to In-N-Out Burger. Call it cliche if you will. It's delicious. 2×3 animal style with fries and a root beer is what I crave. But this had been a short trip to CA and the opportunity to chow down had not presented itself. Well as fate would have it there is an In-N-Out located one mile from the airport. So after departing my limousine and checking my bag for a second time in the state of California, I set out on foot to turn my fortunes around.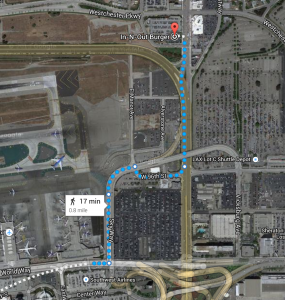 Oh the sweet taste of In-N-Out. If you've never had it, get yourself to the West Coast as soon as you can. I don't typically like hamburgers and especially not fast food hamburgers. Calm down, I know I'm weird. I've never had a Wendy's burger. Same with BK. I've had one McDonald's burger in 27 years. But get me in line at an In-N-Out, stay out of the way. To give you a breakdown on my order that I listed earlier. 2×3 refers to the number of patties and slices of cheese. The famous secret menu allows for advanced options and customization. As an avowed fan of cheese, I have to get some extra cheese. Now animal style is the key to the In-N-Out burger. From their own website: "Burger of your choice with hand-leafed lettuce, tomato, a mustard cooked beef patty; add pickle, extra spread with grilled onions." Heaven.
Now it turns out there's a shuttle for airport parking right next to the restaurant. So I was an idiot for hoofing it. But I guess I got a little workout before the feast. So if you're ever trapped at LAX hop on the Spot Bus bound for Sepulveda.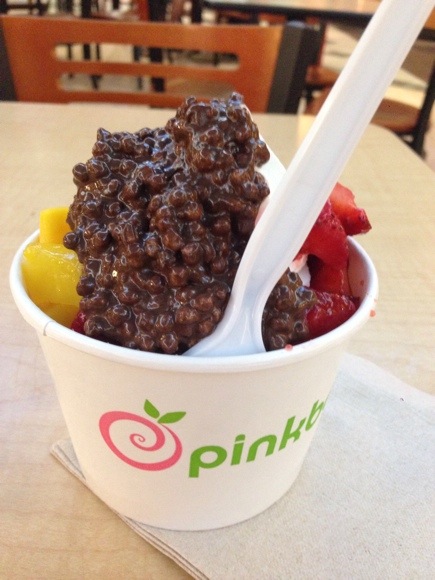 BACK TO THE AIRPORT. After going through security (where my delicious Oregon-made Marionberry jam was confiscated. I had successfully gone through security with it in Palm Springs, but remember today was not my day.) and killing a few hours, I was still staring down the barrel of three more hours. A quick scan of Gate Guru led me to a Pinkberry in Terminal 1 (I earlier this year shouted out Pinkberry in a morning roundup, incidentally the last post. I was swept up in the great froyo craze like many of you.) Treat yourself. So after leaving the safety of my terminal, I went back through security (turns out you can leave your terminal and reenter another terminal if you go back through security. I'd never had time or the desire to test this out. Learn something new every day) and into the warm embrace of some cold froyo. Hit me with original froyo with strawberry, mango, and cookie dough as topping. Standards. Delicious. BUT WAIT. There's a new legend in the mix. Chocolate crunch. Maybe it's not a new topping, maybe it is. It's incredible. Game changer. It's like melty Buncha Crunch. And it's warm. This would fortify me through my remaining three hours.
Once on the plane, I discovered another shocking fact of the pay-for-everything airline system. No blankets on a cross-country red eye. Usually, I was informed, they sell them for $5. But not today. No one had thought to bring our flight blankets. Well fine so be it. In Charlotte with stomach rumbling, I deplaned in search of McDonald's breakfast. Readers of ETD will know my longtime love affair with McD's breakfast. But alas this trip would continue to disappoint. Charlotte is a Burger King airport. When you're hoping for a break in day without them, well you know the rest. Burger King's breakfast isn't bad. In fact, one might argue their hash browns are superior. The sandwich, however, just pales. It tastes fresh from the microwave. It just won't cut it. Sometimes though, you're just that hungry.
Boarding the plane for home, I'm thankful that this ordeal is almost behind me. If you've read this far you're wonderful. Maybe this is the beginning of the renewal of this old blog (maybe not, don't get your hopes up). Thanks to everyone that entertained me along the way.