This is the story of how I spent $100 and bought part of a building on Washington DC's H Street NE. With that investment in 2012 I became one of Commercial Real Estate start-up Fundrise's first investors. After two and a half years Maketto has now opened, but the intervening years were a roller coaster that I never expected.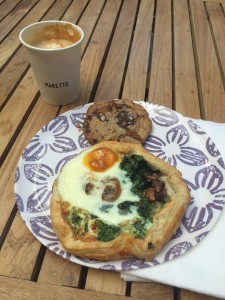 Today Maketto is a wonderful place. A 6,000 square foot space that combines restaurant, bar, bakery, coffee shop, retail, and who knows what else they'll dream up. All of the praise that's being heaped on it is totally justified. The space is absolutely beautiful. The food is great. The coffee is awesome (though I'm not sold on whether siphon brewed really is better than pour over or drip). The pastries are some of the best I've ever had (Erika Skolnick is a genius and may be the unsung hero of Maketto). But this is not a review of Maketto.
The delays that plagued the opening of Maketto are well known and documented. The Post ran a whole article on the problems. As an investor I felt your pain. I wish I could tell you that I had a lot more insight into the challenges and was kept better informed about the causes. But as you'll read, Fundrise left a lot to be desired on the communications front.
I first got involved with Maketto and Fundrise in August of 2012. I'd heard through the DC food blogs that Erik Bruner-Yang was starting something new, and that I was going to be able to own part of it. What? Was this for real? This is 2012 remember. Kickstarter had been around for a couple of years, but this was before you could invest in a Zach Braff movie. And real estate crowdfunding was largely unheard of. This would be the first ever property available for crowdfunding.
The questions that surrounded it were myriad. How did it work? How would we make money? Could I sell my share? This whole concept was going to be a leap of faith. There weren't a lot of previous examples to research. Investment would be restricted to residents of DC, Maryland, and Virginia. Fundrise provided incentives and perks to invest. One share cost $100, and they offered Kickstarter-esque reward tiers at $100, $1,000, and $10,000. I went back and forth about investing.
I was really intrigued by the idea of owning a part of a building in a neighborhood that I visited in a city that I loved. Deciding that the opportunity outweighed the risks, I took the plunge. At the time I was newly 25, and without a ton of disposable income, I invested $100. My justification at the time was that I spent $100 on a lot of stupid things. A building was no dumber than golf clubs.
Ultimately 175 people invested. Three of them were friends of mine. But other than them, who were the others? What company had I just invested in? Fundrise today is everywhere, but back then the names of co-founders Ben and Dan Miller were alien to me. That would change in November 2012. Ben Miller appeared on a Crowdfunding panel at DCWeek, the now defunct DC Tech Week. Attending the panel, I asked him a question on what the resale market for shares would look like. This is a question that he didn't have an exact answer for at the time and to date, I still don't have a great grasp on what I can do with my share before I can cash out.
Following the panel, I met Ben and CTO Kenny Shin and a few others from Fundrise. My friend, Matt, and I were the first non-family or friend investors that they had met. It was a really cool feeling. This was the official the beginning of my relationship with Fundrise. I could finally put faces to the names of the company we'd bought into.
A party followed in February 2013. It had a celebratory atmosphere. We sampled some food that would be featured at Maketto. A spicy papaya salad tantalized us with what was to come. The first equity distribution followed in April 2013. I had made a whole $0.50 on my $100 investment. It was all happening!
But you know the story of what happened. Delay after delay plagued the opening. As investors we received updates on the progress, but over time they dried up. The question of when it was going to open eluded even us, the "owners" of the building. No further equity distributions were to follow.
During this time I was extremely fortunate. Following our meeting at DCWeek, Matt and I were invited to Fundrise HQ to be interviewed so that they could get a better understanding of just who their investors were. Subsequently I was also interviewed by The Washington Post, Wall Street Journal, National Association of Realtors, and even appeared on an episode of Al Jazeera's The Stream. My personal brand soared, but questions still remained.
Crowdfunding in real estate is still largely the Wild West. Fundrise has had a meteoric rise in the last two years. At times it often felt like they had moved on from us, the initial investors. As more and more time passed we heard less and less. More properties came online. Fundrise was booming. It was crazy to watch their rise. Today you can invest in 3 World Trade Center through Fundrise.
But for us – the investors of 1351 H St – we felt like Maketto might never come to fruition. It was frustrating and Fundrise didn't do a great job communicating the project status, even if there wasn't much to report. At some point, I asked Ben to set up a site visit. He seemed enthusiastic, but it never came to pass. In 30 months we received roughly 10 official "Investor Updates" (with nearly half of those coming in the first year).
Last summer, I was interviewed for Fundrise's video to celebrate the opening of Maketto. It seemed like the project was finally nearing the end.  But when I finally saw the video, my name was spelled wrong. These are the kind of kinks I feel Fundrise can work on.
At the end of the day, I'm extremely proud to have my name associated with the project. If you read anything I've said in other media, I still feel that way. This was never about the money for me. I think being able to own part of the community I live in is extremely important. Being 27 and owning part (yes a small part) of a building is an experience I wouldn't have had without Fundrise. I really respect everyone I've met though this experience.
Despite the criticism I've leveled, I would do this again in a heartbeat. Fundrise is a start-up in a new industry and has room to grow and improve. The passage of the JOBS Act should make this easier. Gone will be the inches-thick stack of paperwork Fundrise had to submit to get this property approved for sale to unaccredited investors. Future generations will always own parts of their community. That's really exciting. The future of being invested in the places you shop, live, and work is here.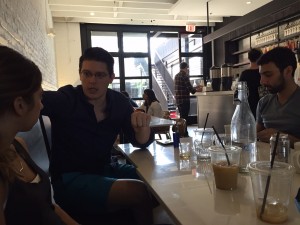 Questions remain. Do we get cashed out in a year and my involvement ceases? Quite possibly. I started this not knowing how it would turn out. Maketto opened a month ago and I still don't know. What I do know is that I'm writing this post enjoying a coffee and a sandwich in the building I co-own. The weather is glorious. Come down to H Street and visit Maketto. It's been worth the journey.