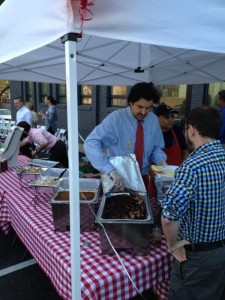 Last week I sat down with Pork Barrel BBQ/Mango Mike's co-owner Bill Blackburn for a wide-ranging interview on the restaurant, the DC BBQ scene, Del Ray, and some future projects. We also coaxed an exclusive tidbit out for the loyal readers of Eat the District.  Check back tomorrow for a full write up of Pork Barrel (read our thoughts here).
I know Pork Barrel really started as the sauce with Heath Hall and Brett Thompson. How did the restaurant come about?
I'll walk you through that because it's kind of a complicated thing. Mike and I were looking to open a barbecue restaurant here in Del Ray. We really liked this area and we really liked the barbecue concept. We'd been doing a lot of BBQ catering stuff out of Mango Mike's and we saw a need for it. We saw a demand for it, we saw a lack of barbecue here and we said "We need to do a barbecue place."
And along the same time that we were kind of kicking things around about how the concept was going to work we ran into Brett and Heath on the competition circuit. They had just won 2nd place for the  People's Choice Sauce at the Safeway BBQ battle, I want to say 3 years ago. One of the things Mike and I had tossed around was the name, and we saw their name — Pork Barrel BBQ — and we thought, "Man, that's it that's just a perfect name. Why didn't we think of that?"
Then we found out that Brett lived here in Del Ray and they were really interested in distributing their sauce and doing gangbusters in the competition circuit. So we thought, we're both under this BBQ umbrella, but we're looking to sell beer and pulled pork sandwiches to the people of Alexandria. These guys are looking to distribute their sauce and rub the grocery stores. Even though we're under the same umbrella we're not really competing with each other. If we went at this together all of the marketing and promotion that they did through competitions and online and in sauce sales in stores is going to help us and then the actual presence of a brick and mortar store would give their fledging sauce company some legitimacy.
Now, it took us a lot longer than anticipated to open the restaurant and to get things off the ground. So during that time period they blew up, and their all over the place. they've got 30,000 followers on Twitter, they've been winning contests left and right. They also got on Shark Tank, and so they've just blown up. So it's really about Brett and Heath when it comes to Pork Barrell BBQ, and less about Mike and I. That being said we do the restaurant, we maintain the quality here and we have fun doing that. So Brett and Heath came up with the sauce, the rub; but the buck really stops with Mike and I for the food portion of things.
So you're doing the meats and the recipes here, not the sauces obviously.
That's right, but Brett and Heath have their hands here a little bit. Especially Heath, we used him a lot for many development efforts and he still comes in and does some quality control. Heath's a very talented guy when it comes to food. He's got an excellent palette. He's a lawyer and doesn't have the time to run a restaurant, so Mike and I  do the restaurant stuff. It's a great partnership. Brett and Heath and Mike and I talk pretty much 2-3 times a week and we try to keep each other updated on what we're doing and how we can work together try to manage the empire, even though there's really two heads to this thing.
Since opening in November, how has business been?
It's been great. We started off with a huge bang. There was a lot of pent up demand. We had done so much promotion, that unless you'd been living under a rock, you'd heard of us. So the first two weeks we opened up we didn't do lunch, we just opened every day at 3 and we were open until we ran out of meat. And we just cooked meat 24 hours a day, as much as we could and we'd usually sell out of everything between 8-9. And there was a line out the door. and we just couldn't keep things in stock. It was just beyond capacity. People were upset we didn't have enough seats, people were upset that the lines were too long. We were churning out food and we were churning out great BBQ at a rate twice as fast as I thought we could or would. I consider it a success, it was a great problem to have.
Now since then all that curiosity business has died off a little bit, and we're still at levels higher than we anticipated. It's been great. Lunch has been a lot busier than I anticipated. There's not a lot of commercial space down here. There's not a lot of offices around here within walking distance. But we're getting people from Crystal City, we're getting people from Old Town, we're getting people from the Patent and Trademark office area. I don't know how they're getting here, but they are. We're built for speed so people can come in and get an inexpensive lunch and eat it and get out of here in 15-25 minutes, which is perfect.
What's been the best moment so far?
The first day we opened we had a soft opening with no food, the Wednesday before Thanksgiving,  I met my fiancee that night. So that takes it.
Do you have any plans on expanding the existing menu?
Not really. We're probably going to start doing some specials of different cuts. Our menu is what it is. We wanted to keep things simple. We wanted to keep it easy and focus on quality. We may do some different fun things from time to time. Beef ribs is something we could do. We also talked about possibly doing Salmon for Lent. Also Turkeys for Thanksgiving, but for the most part we're going to stick to what we got.
What's your favorite dish here?
My favorite meat here is the sausage. We do a Texas style beef sausage, which is a little different and I think it's just delicious. I like it on the nachos.
Are there plans on expanding Pork Barrel to other locations?
It's certainly in the realm of something we want to do. There's nothing concrete yet. It's certainly something I wouldn't rule out.
You and Mike were looking to do a BBQ place in this area. DC is known for a lot of really good food. Less well known than it probably should be. However, it's not really well known for its barbecue. I think that with places like Hill Country and Pork Barrel it's starting to maybe build some of that reputation. Would you agree with that assessment, that DC is not known for its barbecue and why?
I don't think any cities are known for barbecue outside of traditional barbecue regions like Kansas City, Austin, Memphis.  hat's changed a lot in the last 2-3 years. Pitmasters, reality TV, all of the cooking stuff you see out there, and the Food Channel in general has put it out there. Barbecue is the Poker of what's on TV right now. It's cool, it's en vogue, it's hip right now. And so there's barbecue places popping up left and right. Hill Country and Pork Barrel are probably the two biggest names recently. There's a lot of other guys out there that are doing great stuff.
What's your favorite BBQ place in the DMV beside Pork Barrel?
Hill Country. I think those guys do a great job. Any time there's a barbecue places there's going to be people who and there's going to be people who absolutely hate it. And so every time I read something bad about Hill Country, I feel bad because I feel their pain.
Del Ray is expanding. It has some really great food spots, but it seems like it's really blowing up. Would you agree with that? Have you seen that?
Absolutely. Del Ray 10 or 15 years ago was not a desirable place to be. It was not a place you wanted to be after dark. And now you got to have a stroller or a dog to be cool down here. It's a real family neighborhood. It's really up and coming. People in this neighborhood are very proud of this neighborhood, they're very supportive of this neighborhood, and that's one of the reasons why I think it works. All the locals really support the businesses here.
What's your favorite spot in Del Ray to eat other than Pork Barrel?
Taqueria Poblanos.
We're sitting in another restaurant. I've heard mention of names. Chop Chop and Dragon. Can you give us an update.
This restaurant is going to be Dragon. We have 3 restaurants spaces on this block. The first one to open was obviously Pork Barrel BBQ. The next one to open is going to be Chop Chop, and that's another fast casual deal. There's no servers. There's no bar. It is an asian style Noodles and Company. You walk up to the counter, you'll order your food, and you pay for it. You get drink, you get your napkins, you get your condiments and you'll sit down. Somebody brings you your food and that's where the service ends. There's no tipping. It's a cheap, fast, high turnover, fresh meal. That's the concept there, and we think it fits in well into Del Ray because so there's so many full service options here, fancy options here. There's plenty of places where you can go and spend $35 a person, but not that many places where you can go and get a quick lunch for under $9. A good lunch for under $9. We're going to do bottled beer and wine by the class over there, but it's just from the counter.
Is there an estimated opening date?
That's a good question. It's taken us longer than we thought, but we got refocused and we should open within the next couple of months. And after that opens Dragon will be the last one to open. Dragon's going to be something that's just open at night. It's a small lounge-y type area. Sushi, sake, and asian style cocktails. This is all going to be lounge style banquet seating. There's a bar and just a real hip place. A date spot, and this one will be full service. This is the only one of the three that will have servers. Once we get Chop Chop open, this will follow within a month and a half.
Last question, can you give the readers of Eat the District anything exclusive? Just for Eat the District?
(At this point, Bill calls over "Mango" Mike Anderson and they confer)
We're working on a deal with LivingSocial, there's possibly a pop-up, a Pork Barrel pop-up in DC. We're looking to do a Pork Barrel BBQ pop-up in the District to promote Pork Barrel BBQ in the city. As much as we think that everyone's heard of us, that's not the case. There's plenty  of people who don't know we exist. There's plenty of people in Alexandria that don't know we exist.