On Sunday night the DMV's food community gathered at the Rammys, DC's restaurant-industry awards gala, to celebrate the best in the business. A lot of pride was at stake and there were more than a few notable events.
One of the big names honored last night was former DC Mayor Anthony Williams. Mayor Williams was the man who brought the Nationals to DC and was also instrumental in reviving DC's restaurant scene. I caught up with him in a buffet line. When I pressed him for one of his favorite spots he backed us on Liberty Tree, stating that it is one of his "go to" spots in the city. Mayor Williams, we heartily agree!
Among the hotly contested awards, Jeff And Barbara Black (owners of Blacksalt, Blackjack, and Pearl Dive Oyster Palace, among others) won restaurateur of the year. Jeff's speech featured a controversial and impassioned criticism of food bloggers and a defense of those that make the food we eat. Jeff and I spoke later and with a smile he conceded to me that many of his best friends are bloggers. Vikram Sunderam won chef of the year for his outstanding work at Rasika; when I spoke to him and Rasika-owner Ashok Bajaj, they declared they were both "humbled" by the victory. Other notable victories included a surprising win for Fabio Trabocchio's outstanding Fiola, beating out Mike Isabella's Graffiato. Isabella seemed to take the defeat in stride, wearing a big grin on his face throughout the evening.
After the main show came the celebration and with it some outstanding food and drink. Four stations from Australia, Spain, Virginia, and Creative Cuisines took the idea of buffet to another level. With so much good food to choose from it was hard to figure out what to eat first. However, after an exhaustive examination I'm going to give you my winners of the evening: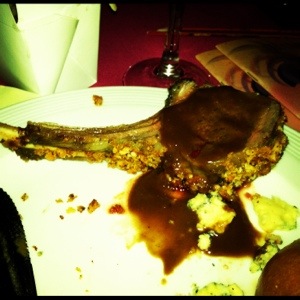 Best Food: Australia. With a huge variety of fantastic offerings (all cooked to perfection) this pavilion had the largest crowds all evening. The standout here was the Macadamia, Parmesan, & Parsley Crusted Lamb Chops. Grilled perfectly and with an amazing sauce I could've eaten this all night. The Australian buffet also offered a wonderfully tender Australian Wagyu Tataki and a delectable Aussie Butter Noodle Salad. So much delicious food made me want to hop on a plane to Australia to sample the rest of what the country has to offer.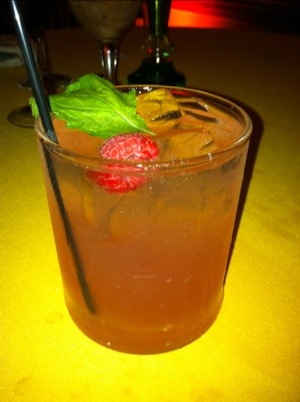 Best Drink:
Featuring a whole host of ingredients from the mind of PS7's former mixologist Gina Chersevani (including raspberry sprouts soaked in vinegar), this drink was a standout.  After this drink, I'll be waiting with bated breath for her new venture, a Hank's Oyster Bar on Capitol Hill, to open.
On a night where the DMV's food stars were out in full force the food led the way. The big names in DC dining made their presence felt. Check out the full list of winners here, and make sure to check them out. After a year of slaving away in their kitchens, tonight was a night to celebrate the men and women that make the amazing food in the DMV. Congrats to all the winners and nominees!