There is a man.  He is behind a counter.  The counter resides at the back of the commercial space at 1020 19th Street NW.  He holds in his hand a blade.  He carves.  Day after day, facing down a large turkey breast and sides of roast beef and ham, he carves.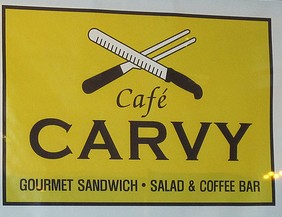 Located on 19th between K and L, Cafe Carvy is a new sandwich spot serving out their wares during the work day to the suited denizens of the downtown DC business establishment.  They have a relatively small menu but their focus is on their handcarved meats.  Mostly boasting of their carved roast beef and turkey, their menu also has corned beef, pastrami, and an italian cold cut option available.
The location is an extremely bold choice for a sandwich place, as it is across the street from a Cosi and down the block from a Potbelly's sandwich shop.  But this unique joint offers a number of preferable options.  First off, Carvy has twelve bread options.  So if you want a turkey wrap or an egg salad sandwich on pumpernickel, you have that glorious carbo-loaded freedom.  The most standout aspect of the Cafe Carvy sandwich, though, is the meat, and how very much they give you.  The aforementioned carver seems to just keep on shaving.  When you order your sandwich, he seems to have a formula to measure out your meat.  That formula is as follows: (more than enough meat) + (more meat) = your sub.  My roast beef was piled high and was tender and juicy.
Cafe Carvy also offers a wide array of drinks, pastries, and snacks to supplement your meal.  Trust me, you won't need to fit anything in your stomach after a big juicy roast beef sub.  So if you are feeling Carvy, head downtown to 19th and K and get all sandwiched up.